The World's Best All Natural
Sugar Free Pre-Workout Energizer

Don't Waste your Workout - PreFuel It!
Before you break a sweat and rev up your routine...power up and prime your muscles to perform at your best! Prefuel® prepares your mind and body for the energy and concentration your body demands. Our revamped Prefuel® is just the right pre-workout fuel your body needs for optimal peak performance.
Best Tasting, Highest Quality, All Natural Performance Powder
PERFORMANCE
Increases muscle performance
Improves workout quality by up to 50%
Sharpens mental focus
100% natural and triple tested mix of ingredients
Boosts nitric oxide to help your body run better, faster, cleaner
Performance-specific amino acids, potent B-vitamins
Vitamins A, C, D and E that work with choline and chromium
ENERGY
Promotes quick and long-lasting energy
Fights fatigue
Increases neural activation
100% natural, healthy alternative to canned energy drinks and coffee
Propriety mix of taurine, citrulline malate, and green tea
Without the unhealthy stimulants and caffeine levels of other products
EASY & SAFE TO USE
Mix with 8-10 oz. of cold water 20-30 minutes prior to activity
Take one scoop anytime throughout the day for an amino acid boost with improved focus, clarity and creativity
Take one scoop after workout as a great way to boost recovery
Take two scoops as the standard pre-workout dosage
Take three scoops to maximize energy and performance (for people who really want to push harder and farther)
Nutrition Facts
Serving Size 1 Scoop (10g)
Serving Per Container 32
Amount Per Serving
Calories 20
% Daily Value*
Sodium (as chloride) 45 mg
2%
Calcium (as carbonate) 50 mg
5%
Magnesium (as citrate) 20 mg
5%
Potassium (as citrate) 50 mg
2%
Niacin in Saccharomyces cervisiae (baker's yeast) 15 mg
75%
Vitamin B6 in Saccharomyces cervisiae (baker's yeast) 2 mg
100%
Vitamin B12 in Saccharomyces cervisiae (baker's yeast) 15 mg
250%
Total Carbohybrate 2g
1%
Sugars 0g
* Percent Daily Values are based on a 2,000 calorie diet. Your daily values may be higher or lower depending on your calorie needs:
INGREDIENTS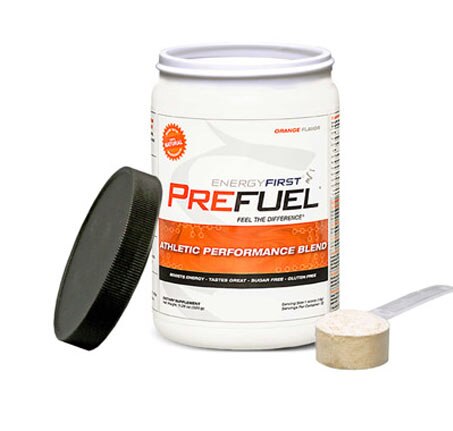 Anabolic Strength, Power & Endurance blend 2500 mg
Creatine Monohydrate, Instantized Branched Chained Amino Acids 2:1:1 (Leucine, Isoleucine, Valine), Betaine anhydrous, CarnoSyn Beta-Alanine (Carnosyn)
Nitric Oxide and Cell Volumizing Complex 2815 mg
Citruline Malate 1:1, L-Glutamine, Taurine, L-Glycine, L-Arginine HCL, Red beet root extract
Energy, Focus, & Fatty Acid Oxidation Matrix 930 mg
L-Tyrosine, Green tea extract (standardized for caffeine**), Green coffee bean extract (50% chlorogenic acid), L-Carnitine L-Tartrate
Concentrated Antioxidant & Anti-Inflammatory blend 435 mg
N-Acetyl-L-Cysteine, Green tea extract (standardized for 90% polyphenols & 50% EGCG), Grape Seed Extract (standardized to 95% Proanthocyanidins), Citrus bioflavonoid complex, Turmeric (standardized to 95% curcuminioids)
Key Adaptogen Complex 140 mg
Rhodiola Rosea Extract (standardized to 4% Rosavins & 1% Salidrosides), KSM-66 organic Ashwagandha (standardized to 5% withanolides), Siberian ginseng root (Eleutherococcus senticosus)
Nutrient Utilization and Absorption blend 27.5 mg
Astragin TM (Panax notoginseng (root) extract and Astragalus membranaceus (root) extract), BioPerine R (Piper nigrum) black pepper extract

** Total caffeine from all sources equal to 110mg per 10g serving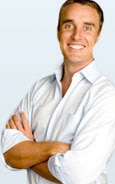 If for any reason you are dissatisfied with your purchase, simply return the unused portion for a
full refund. Gerry Morton,
President & CEO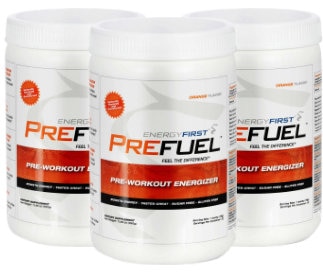 GLUTEN
FREE

NO
SOY

NON
GMO


SUGAR
FREE
The Ultimate Fuel for Health and Fitness!
Pre-Workout Drink
Net Weight: 11.28oz (320g)
Sale Price: $34.99
Add to Cart
One Bottle Prefuel® = 32 scoops!