For GastroIntestinal and Intestinal Health. Each Bottle Contains 50 Tablets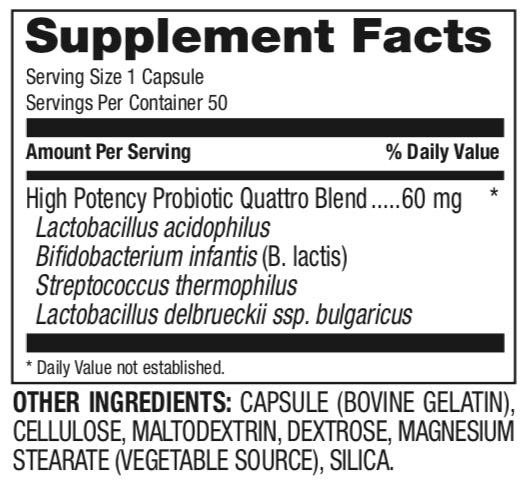 Bacteria's "Good Side"
Probiotics are safe microorganisms that can have a positive effect on health. These microorganisms include yeast and bacteria, especially lactic acid bacteria. You may have consumed probiotics without even knowing it. Probiotics include fermented foods and cultured milk products, such as yogurt or buttermilk. Although probiotic therapy is generally considered new to the field of health and nutrition, it has been around for years. Scientists only began understanding the many wonders of probiotics around the beginning of the 20th century. For example, one scientist, Elie Metchnikoff, began his studies of probiotics in order to prove that consumption of live bacteria can improve health and life expectancy. A growing body of evidence shows that a balanced intestinal tract is crucial to overall health, leading to the production of powerful probiotic blends to improve digestion.
The main purpose of probiotics is to restore an essential balance of healthy bacteria, or microflora, in the digestive tract. A normal balance of intestinal microflora can prevent the growth of bad bacteria that harm intestinal health. Probiotics have the potential to treat or improve numerous intestinal disorders, diseases, and discomforts, such as diarrhea, constipation, irritable bowel syndrome (IBS), and inflammatory bowel disease, certain cancers, lactase indigestion, and infant allergies or food allergies. Probiotics can also play a role in treatment of H. pylori and urinary tract infections.
Often, the normal, healthy balance of bacteria in the gut is disrupted by the high use of antibiotics. Antibiotics kill the good bacteria that benefit your intestinal tract. This can lead to illnesses and digestive problems that are quickly felt due to diarrhea, gas, and cramping.
It is important to be proactive about protecting yourself against harmful bacteria overgrowth, especially to avoid upset stomach symptoms and prevent uncomfortable gastrointestinal issues that can be embarrassing. A daily dose of quality probiotics will boost your immune system because it helps eliminate harmful bacteria and increase levels of healthy bacteria to normal levels. One of the most important bacteria in a probiotic supplement is Acidophilus, which is a fighting machine. Supplement these "good" beneficial bacteria in your digestive system to increase your defenses against harmful visitors.
Probiotics can also score you better blood test results. Two recent studies have shown that probiotics can help lower triglyceride and cholesterol levels. These studies report that probiotics may play a role in stopping the formation or absorption of cholesterol
"The Second Brain"
The gut is often called the "second brain" because it has a network of more than 100 million neurons and billions of nerve endings, collectively called the enteric nervous system. The enteric nervous system is just as important as your central nervous system to overall health of the entire body. By controlling the esophagus, intestines, stomach, and colon, the enteric nervous system plays an extremely important role in the health of all body systems. The colon alone house more than 400 different types of bacteria.
If unpleasant gastrointestinal symptoms, such as urinary tract infections (UTIs), muscle pains, stomach problems, or diarrhea disrupt your everyday life, these symptoms may be a sign you need a healthy probiotics regime that supports your enteric nervous system. Major intestinal disorders such as Crohn's disease, ulcerative colitis, and other gastrointestinal infections can be significantly improved by including probiotics in the diet to readjust an unbalanced digestive tract. The beneficial effects of probiotics include gradually building a stronger immunity and more resilient bacterial profile in the gut.
With more than four billion live organisms contained in our double strength probiotic blend at the time of packaging, we ensure you that you are receiving the proper levels of healthy bacteria to promote your gastrointestinal health. We have included the best bacteria strains in our probiotic blend, including lactobacillus acidophilus, bulgaricus, bifidobacterium, and streptococcus thermophilus. The live bacteria in this probiotic blend will improve the function of your digestive system. Why should you let intestinal discomfort spoil your day? Start a healthy regime of probiotics as part of a healthy diet.