The Very Best 100% All-Natural Sleep Aid Supplement on the Market!
Sleep is as important to our health as nutrition and exercise. Unfortunately, sleep deprivation is on the rise. Trouble with falling asleep and staying asleep has plagued many people throughout their lives, especially during aging. Highly demanding jobs, anxiety, depression, and other devastating effects occur due to lack of sleep, or insomnia. Although sleeping pills may initially work, they offer just a temporary fix that is not worth their unpleasant side effects, such as tiredness and decreased productivity. EnergyFirst created a safe alternative to sleeping pills that is a natural cure for sleep deprivation and other sleep disorders. Try EnergyFirst's natural Sleep Formula to get a better night's sleep and to feel fresh when you awake every morning.
ORDER A CASE OF 4 and
SAVE 32% Details
Share Page:
Maximize Sleep and Achieve a Greater Sense of Well-Being. Contains 50 capsules per bottle.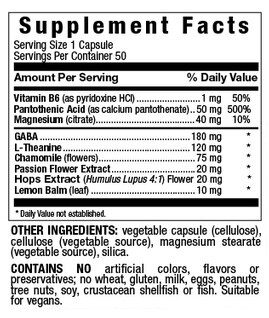 Need Better "Sleep Hygiene"?
Healthy sleep hygiene, or sleep habits, is just as important as eating a healthy diet and regularly exercising. Unfortunately, there are many factors that interfere with, disrupt, or ruin our sleeping patterns. As we age, our sleep patterns can change and make us more susceptible to waking up in the middle of the night. Most of us are aware of the undesirable effects of a poor night's sleep—you wake up the next morning feeling tired, grumpy, and unmotivated.
Good Night!
High-quality sleep can help you wake up refreshed, feel energized in the morning, and help you stay alert throughout the day. Over the course of a few years, EnergyFirst carefully selected high-quality herbal ingredients to include in our Sleep Formula supplement. This powerful supplement packs the best natural sleep remedies into an easy capsule. GABA and chamomile extract are both included in this sleep supplement blend to prompt quick relaxation of the mind, which will relieve anxiety and irritation that makes falling asleep difficult. Our Ultimate Sleep Formula is a gentle 4 part combination formula that contains vitamin-mineral-amino acids and botanicals to support natural relaxation so that you can have a good,healthy night's sleep.
What's wrong with sleeping pills?
Strong sleeping pills force the body into sleep. EnergyFirst prefers the gradual benefits of Sleep Formula, however, which slowly and safely changes natural sleeping patterns. Unlike many sleeping pills, Sleep Formula is a supplement with no harmful side effects that could ruin the rest of your day. We avoided any man-made ingredients or substances. Free of Valerian & Melatonin as some individuals are sensitive to these ingredients.This herbal sleep supplement can safely be taken every night. Give Sleep Formula a try before any harsh antidepressants or prescription sleeping pills and you may find that it is possible to remedy sleep problems naturally. Sleep Formula helps reduce the ongoing anxiety and sleeplessness without the need for a prescription pill.
The best way to take Sleep Formula is by swallowing one capsule one half hour prior to sleep every night. It's also best to take Sleep Aid on an empty stomach, as it will work much better when there are no proteins from the digestive tract involved. The proper dosage range for Sleep Formula starts at 1 capsule, but it can fluctuate anywhere from 1-2 capsules per night. To properly find your correct dosage, begin with a single capsule at least a half hour before bedtime, and increase the dose as needed. Your body will reward you with a good night's sleep. These herbal ingredients will help reduce insomnia and improve your mood the next morning and every morning.