Organic Fiber
As your digestive system battles to process everything you consume on a daily basis, it encounters toxins and fibers that are hard to digest. Thanks to Organic Fiber, you can make the process of digestion smoother and kinder to your body. Organic Fiber is made from Blonde Psyllium, a natural extract taken from the plant that is free from gluten. As this product is produced in an environment that is free of pesticides, it is completely safe to ingest.
ORDER A CASE OF 4 and
SAVE 32% Details
Share Page:
Get Your Great Tasting Organic Natural Fiber Today! Goes Great in your EnergyFirst Shake!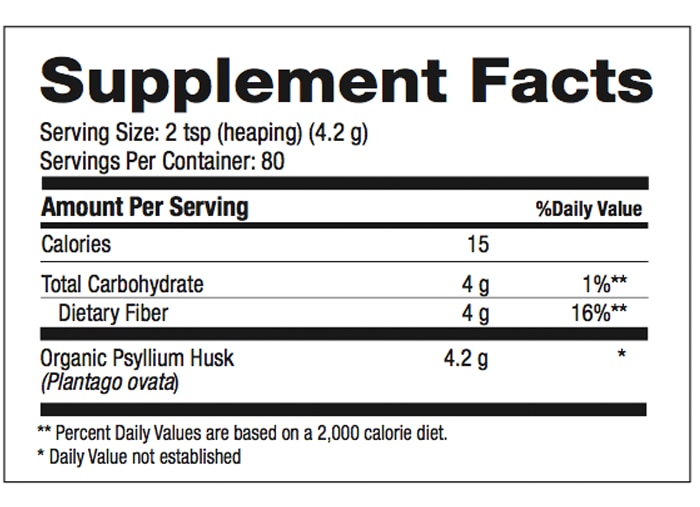 This product works by slowly making its' way through your digestive system. As food is processed and eventually expelled in the small and large intestines, Organic Fiber focuses there. By absorbing water and waste, this product will allow you to bring a new sense of balance to your digestive system. If your bowel movements are irregular and inconsistent in terms of bulk, you will benefit from this product. If you suffer from constipation or hemorrhoids, Organic Fiber will soften your stools and make the process of excretion easier. In addition to this, you can use Organic Fiber to make having bowel movements after surgery easier, or while taking medications for pain.

The medical community unanimously agrees that we all need to consume a certain amount of fiber to make digestion easier. In terms of dietary intake, you should aim to eat fruits like raisins, bananas, and strawberries. While these foods act as good sources, there is no way to guarantee that what you consume contains all of the fiber you need. By taking a supplement like Organic Fiber, you can be assured that you are consuming enough fiber to keep your digestive system flowing smoothly.

By using Organic Fiber, you will no longer have painful conditions like constipation, cramps, and bloating. By addressing concerns that relate to your digestive system, you will automatically ensure that your other body systems benefit. As your digestive system uses a lot of blood while functioning fully, you will be able to direct blood flow to other areas of your body and reduce strain on your heart. The Psyllium content in this product will also address issues such as imbalanced blood sugar and high blood pressure.

Across America, around 25 to 45 million people suffer from Irritable Bowel Syndrome (IBS). When suffering from IBS, they experience complaints such as cramping, gas, loose stools and fatigue. IBS is a condition that can leave sufferers unable to enjoy food, exercise and certain drinks. This condition can easily be treated by adding more fiber to your diet, but many people do not have the time or resources to strike the perfect balance. Through the use of Energy First's Organic Fiber, it is easy to add enough fiber to your diet and keep conditions like IBS at bay.

To see the full benefits of this product, you should take it on a daily basis and while engaging in a healthy lifestyle. By doing this, you will turn your digestive system away from something that does not function properly, to something that functions at its optimal level.