Chocolate Chip Cookie Individual Bar
Introducing the NEW & REVAMPED, lean and clean Protein Bars that are actually good for you! Tastes like a candy bar...delicious smooth texture with no gritty after-taste. The best tasting, lowest carb, low sugar Protein Bar on the market with no preservatives, no GMO ingredients, and no hydrogenated oils. We have spent the past year building the perfect recipe for an incredible bar with the best nutritional items so you get real energy from real ingredients!
100%
NATURAL
GLUTEN
FREE
NO
MALTITOL
LOW
SUGAR
GREAT
TASTE
PRODUCTS DETAILS
Our overwhelming customer favorite: the most scrumptious, creamy, flavorful, sweet tasting all natural cookie dough on the market smothered in our guilt-free, melt-in-your-mouth chocolate coating. Chock-full and brimming with the most exquisite essential ingredients including real chocolate chips and peanut butter so unbelievably decadent you will think you are cheating – but Permalean is the only High Protein, Low Sugar, Low Carb Protein Bar with no preservatives, no GMO ingredients and no hydrogenated oils.


A Protein Bar should support your health goals, not spoil them. Don't "sell out" on sugary bars.


100% Natural
No Preservatives, No GMO Ingredients, No Hydrogenated Oils
Finest, Bio-Available Whey, Soy & Milk Proteins
2 Delicious Flavors – Tastes like Candy Bars!
The Perfect Meal Replacement or Snack
23 Grams of Protein, Low Sugar, Low Carbs, ONLY 230 Calories
START YOUR #HEALTHYHABIT TODAY!
TOP TEN REASON YOU WILL LOVE PERMALEAN PROTEIN BARS:
1) 100% Natural
2) Packed with 23g of Protein
3) Amazing Taste
4) Low Carbs
5) Low Sugar
6) Gluten Free
7) Eat as a Meal Replacement
8) Creamy, Delicious, Mouthwatering Texture
9) Keep You Mentally Focused
10) Fill You Up Fast

NUTRITION FACTS
Nutrition Facts
Serving Size 1 Bar (60g)
Serving Per Container 12
Amount Per Serving
Calories 230
Calories from Fat 60
% Daily Value*
Total Fat 7g
11%
Saturated Fat 4.5g
23%
Trans Fat 0g
Protein 23g
Cholesterol 10mg
3%
Sodium 125mg
5%
Total Carbohybrate 23g
8%
Dietary Fiber 10g
40%
Sugars 4g
* Percent Daily Values are based on a 2,000 calorie diet. Your daily values may be higher or lower depending on your calorie needs:
INGREDIENTS
PermaPro Protein Blend (Milk Protein Isolate, Whey Protein Isolate), Isomalto-oligosaccharides (Prebiotic Fiber), Chocolate Flavored Coating (Sugar, Palm Kernel Oil, Cocoa Powder, Soy Lecithin [Emulsifier], Vanilla), Chocolate Chips (Organic Cane Sugar, Organic Cocoa Liquor, Organic Cocoa Butter, Organic Vanilla, Sunflower Lecithin), Sunflower Seed Butter, Palm Kernel Oil, Soy Lecithin (Emusifier), Natural Flavors, Stevia.
Want to know more about Permalean® Protein Bars?

RECOMMENDED PRODUCTS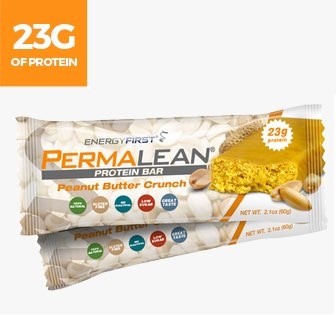 Peanut Butter Crunch Individual Bar
$2.99
Add to Cart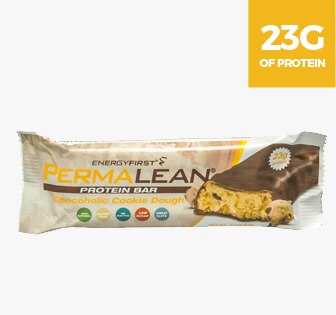 Chocolate Chip Cookie Individual Bar
$2.99
Add to Cart