Vitamin C has many health benefits, but its probably best known as a cell protector, immunity booster, and powerful antioxidant. It is a highly versatile and health-enhancing nutrient and is active throughout the body. It is used up more rapidly during times of stress.
Get the High-Potency Vitamin C Today. Each Bottle Contains 100 Tablets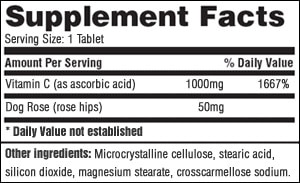 Also known as ascorbic acid, Vitamin C is probably the world's most popular vitamin. Because it is a water-soluble nutrient that is easily excreted and lost from the body, vitamin C needs to be consumed daily to meet the body's needs. Vitamin C is typically found in a variety of fruits, especially citrusy, such as guava, oranges, and plums. Unripe foods, however, can have a significantly lower vitamin C content compared with ripe foods.
Are You Getting Enough Vitamin C?
Our personal vitamin C needs can often vary, depending on our age, current health status, stress levels, and daily habits. Smokers or people regularly exposed to secondhand smoke are at risk for low vitamin C levels and have a greater vitamin C need than nonsmokers.
When you are exposed to a lot of stress, you may not even realize that your body is taking away from the few vitamin C reserves you have. A diet low in Vitamin C during these critical times can lead to health issues. Taking a high-potency vitamin C supplement can prevent health issues related to low vitamin C intake.
Prevent a variety of diseases with this high-potency formula. Vitamin C is part of nutrition therapy or prevention of anemia C because it improves absorption of iron from plant sources. This will ensure there is enough iron in your blood to carry oxygen throughout the body, which is especially important for anemic to prevent dizzy spells.
This high-potency supplement provides vitamin C in easily absorbable amounts to help your body absorb calcium better. Prevent osteoporosis and brittle bones by improving your bone density with a vitamin so strong that physicians now choose high-dose Vitamin C therapy to treat bone disorders. Numerous research studies show that high blood levels of vitamin C are linked to lower risks of death, especially from cancer and cardiovascular disease.
Vitamin C is a powerful antioxidant that protects cells and repairs damage caused by free radicals. Our bodies are constantly exposed to free radicals because of environmental toxins, cigarette smoke, and ultraviolet light. Experts agree that the human body is well-armed when it receives 200 mg of vitamin C per day to fight infections. An easy way to boost your immune system to work properly is with this high-potency Vitamin C supplement. Meet your vitamin C needs to help your body produce white blood cells that fight infections and prevent disease. In fact, vitamin C can shorten the duration of the common cold.
In addition to improving many medical conditions, vitamin C is well-known for improving the appearance of your skin. Our bodies use vitamin C to form collagen, a protein that helps heal wounds. In addition to helping wound healing, the collagen boost vitamin C provides will reduce scars and slow the aging process.
This high-potency formula is packed with natural sources of Vitamin C. It is also one of the most underrated sources of Vitamin C—rose hips. With 60 times more Vitamin C than citrus fruits, rose hips are a great natural source of vitamin C. Rose hips are the small fruit pods that originate underneath rose blossoms. For added protective health benefits, rose hips contain bioflavonoids, which help your body absorb the vitamin and direct it to the tissues that need it the most.
If you are pregnant, a smoker, or under large amounts of stress on a daily basis, your body will naturally require more Vitamin C. These high potency vitamin C supplements are easy to swallow. Each packs the antioxidant activity and power of 1000 mg of Vitamin C. Experience a drastic improvement in your overall health when you include this supplement in your healthy diet and exercise program.