Restore your bones today! Each bottle contains 100 tablets.
Defend, Restore, Preserve your Bones
The importance of bone health can't be underestimated. Bone is living, growing tissue that is constantly changing, depending on nutrition, physical activity, and hormonal changes. Bones have their own blood vessels and are made up of living cells that use nutrients to grow and to repair. They allow the body to move, protect vital organs, provide structural support for the body, and are a storage area for essential minerals other parts of the body may need.
Two of the main building materials of bone are calcium (a mineral that offers bone strength and hardness) and collagen (a protein that provides a soft framework). Together, these two building materials help create a strong, yet flexible structure that your body needs to hold up against stress.
How Bones Form
This living tissue we call bone is essentially a fine balance of two processes: formation of new bone and breakdown of old bone tissue. During childhood and early adolescence, bone formation occurs at its fastest pace, much faster than bone breakdown. Like a growing savings account, this helps build large, heavy, dense bones to be used into adult years and throughout the rest of one's life.
After age 30, however, bone formation starts to slow down and often cannot keep up with bone breakdown. This can lead to bone disease, such as osteoporosis, a disease in which bones are weak are highly likely to fracture (or break).
Osteoporosis is anything but rare. According to the Internation Osteoporosis Foundation, worldwide, osteoporosis causes more than 8.9 million fractures each year. That is one osteoporotic fracture every 3 seconds, usually of the hip, wrist, or spine. In the US alone, about 10 million Americans have osteoporosis and 34 million men and women are at risk.
Nutrition for Bone Health
The role of nutrition in building strong, healthy bones is becoming ever clearer. Nutrition supports bone mass, architecture, and movement.
What nutrients are key for optimal bone health? The following nutrients work together to build healthy bones and are promising for preventing bone disease:
Calcium: Calcium is the key player in bone health. This essential mineral is used to build bones. It is stored in bones as a reservoir and source of calcium for blood, muscles, and cellular fluid when needed. Are Americans getting enough? Multiple research studies show they aren't. About 90% of women may not be getting enough calcium. 2 To replace calcium loss from bones, the body needs an adequate supply from the diet.
Some good food sources of calcium include dark leafy green vegetables, milk, cheese, yogurt, and almonds. A calcium supplement can help fill what many don't succeed in getting from foods.
Vitamin D: Vitamin D plays a key role in protecting bones. Also, your body needs it to absorb calcium. A deficiency in vitamin D can lead to loss of bone mass, bone, density, and bone strength. Loss of bone strength can increase risk of bone fracture.
Vitamin D can be hard to get. There is a limited number of natural food sources, including egg yolks and fatty fish. Also, many do not get enough sun exposure, which helps trigger vitamin D production in the skin. Although many try to get vitamin D mainly through foods, supplementation is often needed.
Magnesium: 50 to 60% of the body's magnesium is found in the bones. Clearly, magnesium plays a role in maintaining bone health and integrity. 3 Magnesium food sources include kidney beans, edamame, and black beans, avocado and almond, or spinach.
Studies show the negative effects a magnesium deficiency can have on the bones - it can directly affect bone structure, it is associated with a decrease in vitamin D, inflammation, and disfunction of the blood vessels that feed bone cells their nutrients.
Zinc: Studies show that zinc can stimulate an increase in bone mass. 5,6 In fact, a notable pattern is seen. When a person is deficient in zinc, bone growth, development, and maintenance is retarded.
EnergyFirst's Bone Restore has a fine balance of all these essential vitamins and minerals.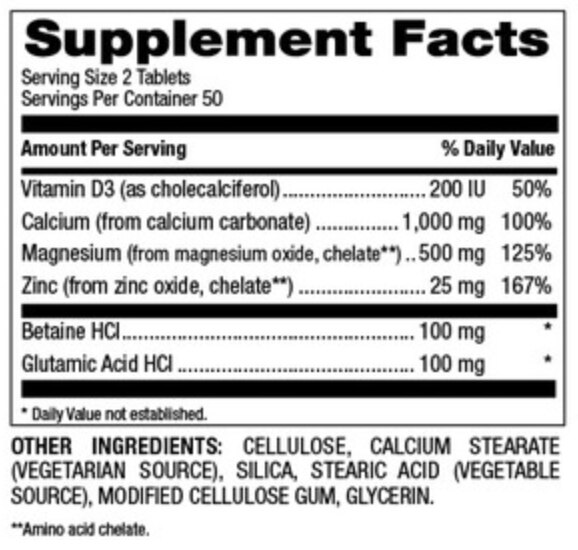 References 1. National Osteoporosis Foundation website. http://www.nof.org/learn. Accessed October 15, 2012. 2. Ther Clin Risk Manag. 2008 Aug; 4(4): 827–836. 3. Office of Dietary Supplements website. http://ods.od.nih.gov/factsheets/Magnesium-HealthProfessional. Accessed July 7, 2016. 4. Nutrients. 2013 Aug; 5(8): 3022–3033. 5. Mol Cell Biochem. 2010 May;338(1-2):241-54. doi: 10.1007/s11010-009-0358-0. Epub 2009 Dec 25. 6. Nutr Res Pract. 2010 Oct; 4(5): 356–361.