Get 5-7 Servings of Vegetables! Sugar Free, Gluten Free and Made with Certified Organic Ingredients!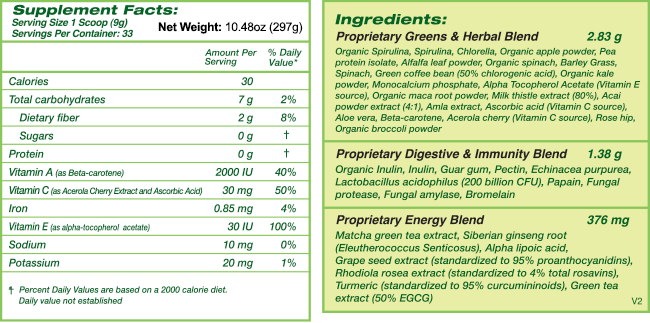 Can you imagine a green drink that provides a powerful energy boost and replaces the need for coffee?

Can you imagine 5 servings of vegetables in every scoop?

How about an immune booster that helps to ward off the onset of colds or flu?
That's what you get with Greenergy®. With this
superfood
, you get all the recommended daily nutritional value of greens in ONE scoop.
Greenergy® also includes powerful probiotics, digestive enzymes, green tea extract, an energy blend, and strong immune boosting nutrients.
Plus, Greenergy® tastes great and dissolves instantly in water.
The Greenergy® bottle contains 33 one-scoop (9g) servings. The bottle contains 10.48oz (297g).
Greenergy® contains potent antioxidants
essential for:
increasing energy
metabolizing fat
boosting your immune system
detoxifying your system
optimizing your health and well being
Greenergy® also contains green tea extract
which has been shown to reduce the risk of stroke and certain cancers.
Each superfood container of EnergyFirst Greenergy® has 33 one scoop servings. Mix the green drink powder in water (ideally in an EnergyFirst Blender Bottle with a scoop of vanilla ProEnergy protein) or add it to your Protein Shake Recipe
Store this green superfood in a cool place.