It's possible that many people are completely unaware of just how sleep deprived they truly are because 5-6 hours (what is known to be inadequate) is their normal.
The National Sleep Foundation still recommends 7-9 hours for younger adults (ages 18-25) and adults aged 26-64, and 7-8 hours for older adults (65+).
Why is sleep so important to gauge when assessing your health plan?
Notice some of the research behind sleep and weight loss:
+ In a study published in the International Journal of Obesity, participants who slept at least seven hours were more likely to lose at least 9 pounds compared to those who slept six hours or less.
+ Several studies link weight gain with little sleep and find one reason to be changes in appetite hormones, like an increase in the hunger hormone ghrelin.
+ Lack of sleep can result in high cortisol levels, a stress hormone known to increase fat storage.
Sleep deprivation can trigger addictive behaviors. It can leave us with less energy, thus making it harder on our body to stay energized. We might even crave or seek a quick-fix energy boost from less nutritious, less healthy foods and drinks.
The Role of Nutrition in Sleep
While we have had several blog and newsletter articles touching on this subject, a quick refresher wouldn't hurt, would it?
It turns out proper nutrition can encourage better sleep.
Did you know eating more sugar and less fiber is linked with lighter, less refreshing sleep? A study found that higher fiber intake predicted more time spent in that deep, slow-wave sleep we all aim for in order to feel well-rested and refreshed the next morning.
We talk a whole lot about blood sugar stability at EnergyFirst and the topic of sleep is no exception. A diet that stabilizes your blood sugar also stabilizes other hormones needed for proper sleep. Foods that produce a more gentle rise in blood sugar and insulin levels produce fewer spikes in hunger, less crashes, and less production of stress hormones. This all can impact sleep quality.
The less processed and more whole the foods are that make up your meals and snacks, the better - quality protein, unprocessed healthy fats, unrefined, whole, fiber-rich carbs and nutrient-rich fruits and veggies are where it's at! They provide sustained, prolonged energy, giving your body some work to do to breakdown, digest, and absorb all the nutrients.
Tryptophan is an amino acid that is used to produce melatonin, which plays an important role in sleep. We definitely need to be consuming adequate amounts of tryptophan for better sleep quality.
Thankfully, tryptophan is found in a variety of common foods, a few of which include pumpkin seeds, poultry, soybeans, tuna, oats, eggs, and beans.
Are you making progress?
So, before getting on the scale, why not open a notebook or note page and start a sleep diary? If your sleep ritual or quality leaves much to be desired, a sleep diary may help you pinpoint where you can make needed changes.
The Sleep Research Society's journal Sleep published a consensus on a quality sleep diary for self-montoring and self-assessing one's sleep. Consider the following sample Sleep Diary based on their Consensus Sleep Diary: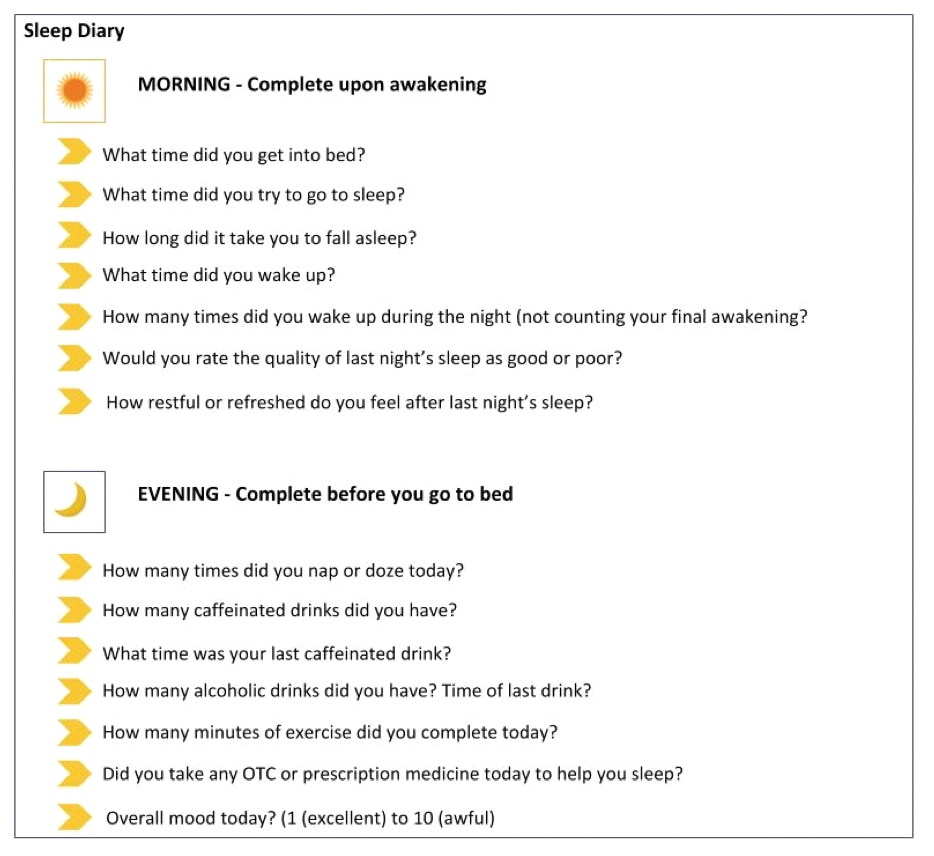 References Spivey A. (2010). Lose sleep, gain weight: another piece of the obesity puzzle. Environmental health perspectives, 118(1), A28–A33. https://doi.org/10.1289/ehp.118-a28M
Int J Obes (Lond). 2012 Jan;36(1):86-92. doi: 10.1038/ijo.2011.60. Epub 2011 Mar 29.
Leproult R, Copinschi G, Buxton O, Van Cauter E. Sleep loss results in an elevation of cortisol levels the next evening. Sleep. 1997 Oct;20(10):865-70. PMID: 9415946.
Carney, C. E., Buysse, D. J., Ancoli-Israel, S., Edinger, J. D., Krystal, A. D., Lichstein, K. L., & Morin, C. M. (2012). The consensus sleep diary: standardizing prospective sleep self-monitoring. Sleep, 35(2), 287–302. https://doi.org/10.5665/sleep.1642
St-Onge MP, Roberts A, Shechter A, Choudhury AR. Fiber and saturated fat are associated with sleep arousals and slow wave sleep. J Clin Sleep Med 2016;12(1):19–24.