Maximize Workout Results
Increase Performance & Energy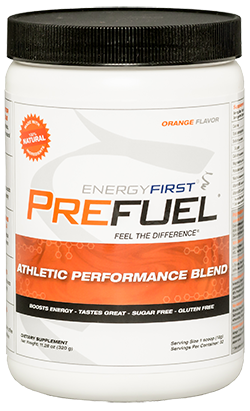 GLUTEN
FREE
NON
GMO
SUGAR
FREE
Pre-Workout Performance

10 out of 10
We are truly proud and excited to announce the relaunch of our Best-Selling Prefuel® Athletic Performance Blend. Our team has been working methodically over the past year to deliver a revamped, scientifically formulated, industry leading product so you can start your workouts right and fuel your fitness to finish strong.
Recover Faster and Fight Fatigue
Improve Endurance and Performance
Highest Quality Vitamins and Minerals
Loaded with Antioxidants
All Natural Energy
Gluten free and non-GMO
Order 6 or more Jars!
Get each for $29.99
Don't Waste your Workout - PreFuel It!
Before you break a sweat and rev up your routine...power up and prime your muscles to perform at your best!
Prefuel® prepares your mind and body for the energy and concentration your body demands.
Our revamped Prefuel® is just the right pre-workout fuel your body needs for optimal peak performance.
Want to know more about Prefuel®?

Best Tasting, Highest Quality, All Natural Performance Powder
PERFORMANCE
Increases muscle performance
Improves workout quality by up to 50%
Sharpens mental focus
100% natural and triple tested mix of ingredients
Boosts nitric oxide to help your body run better, faster, cleaner
Performance-specific amino acids, potent B-vitamins
Vitamins A, C, D and E that work with choline and chromium
ENERGY
Promotes quick and long-lasting energy
Fights fatigue
Increases neural activation
100% natural, healthy alternative to canned energy drinks and coffee
Propriety mix of taurine, citrulline malate, and green tea
Without the unhealthy stimulants and caffeine levels of other products
EASY & SAFE TO USE
Mix with 8-10 oz. of cold water 20-30 minutes prior to activity
Take one scoop anytime throughout the day for an amino acid boost with improved focus, clarity and creativity
Take one scoop after workout as a great way to boost recovery
Take two scoops as the standard pre-workout dosage
Take three scoops to maximize energy and performance (for people who really want to push harder and farther)
Anabolic Strength, Power & Endurance Blend
Prefuel® ingredients offer the building blocks for more strength, power, and endurance. These ingredients promote muscle development and recovery by sustaining an anabolic environment.
Creatine monohydrate brings results by increasing strength and lean mass. It provides additional energy for muscles to contract by replenishing muscle stores of creatine phosphate. This is a quick and usable source of energy for muscles to use after ATP stores are depleted.
Creatine has been shown to pull water into muscle cells, thus increasing the size of muscles. More importantly, research data shows that creatine places the body in an anabolic (muscle-building) state.
Instantized branched­chain amino acids (BCAAs), leucine, isoleucine, and valine, are absolutely essential for those who want to build muscle. In PreFuel, they are included in the safest ratio of 2:1:1 that favors leucine. Leucine is the most potent of the BCAAs, playing a special role in stimulating protein synthesis.
Exercise causes BCAA degradation. Without adequate BCAAs, the body would go into catabolism (muscle breakdown) mode. Thus, BCAA supplementation helps prevent muscle breakdown. It also can reduce post­workout muscle damage and soreness.
Betaine anhydrous: According to the European Journal of Applied Physiology, this naturally-occurring chemical creates the proper hormonal environment (especially regulating insulin sensitivity) to favor muscle growth. Several studies show that betaine anhydrous increases performance in cyclists, and power and force in bench press, squat, and jump test.
The beta­-alanine used in PreFuel has shown results in a broad span of athletic performances ­everyone from elderly subjects to professional body builders, endurance cyclists, collegiate football players, and competitive sprinters. Beta­-alanine increases muscle carnosine levels. Carnosine is a muscle buffer that decreases acidosis by buffering the acidic environment created by active muscles. It also improves endurance, increases strength, and synergistically works with creatine monohydrate to delay muscle fatigue.
EnergyFirst Prefuel® is the Best Pre-Workout Energy Drink
Q. How does Prefuel® work to boost athletic performance?
A. Prefuel® takes an advanced approach to increasing athletic performance and nitric oxide synthase, a family of enzymes that play a major role in health and exercise performance. Nitric oxide production aids exercise performance by increasing blood flow to muscles. Citrulline malate is a potent NO2-producing substance and is more powerful than arginine for nitric oxide production because it does not require the absence of other amino acids. Other supporting amino acids in Prefuel include glutamine, leucine, and tyrosine, which work together to fight fatigue and support the mTOR muscle protein synthesis pathway, cell volumization, and neural activation. Taurine helps produce eNOS (Endothelial Nitric Oxide Synthase), a beneficial form of nitric oxide. This enzyme is essential for healthy circulation and healthy blood pressure. Taurine also helps prevent excess production of iNOS (Inducible Nitric Oxide Synthase), a form of nitric oxide that needs to be kept in check because it can lead to excessive inflammation. Successful nitric oxide production requires the combined beneficial effects of antioxidants and moderate amounts of caffeine. Prefuel contains green tea extract to supply the antioxidants that prolong the activity of nitric oxide inducing agents. The moderate amount of natural caffeine (110 mg in Prefuel) does not constrict blood vessels the way large amounts of caffeine can.
Prefuel's vitamin and mineral blend includes Vitamin C and Niacin to help increase blood flow and support nitric oxide production. Combined with taurine, citrulline malate, and green tea extracts, these vitamins boost muscle performance and function.
In our studies, the abovementioned nutrients found in Prefuel work together to enhance workout performance 20-50% more than those who did not take pre-workout Prefuel. We encourage you to take Prefuel for a trial run and share your results with us. Insert a comment in the section below or email us at
info@energyfirst.com
.
Ingredients/Facts
Prefuel®
Regular Brewed Coffee
The Coca-Cola Company®
Coca-Cola®
Red Bull®
Rockstar®
Starbucks®
Grande Mocha Frappuccino® Whip †
Serving Size
10g per 8-10 oz. cold water
8 fl. oz.
12 fl. oz.
8.3 fl. oz.
8 fl. oz.
16 fl. oz.
Servings per Container
32
1
1
1
1
1
Calories
20
2
146
110
140
380
Total Fat
0
0.5g
0
0
0
15g
Saturated Fat
0
0
0
0
0
9g
Cholesterol
0
0
0
0
0
55mg
Sodium
45mg
5mg
50mg
200mg
40mg
240mg
Total Carbohydrates
2g
0
41g
28g
31g
57g
Sugars
0
0
41g
27g
31g
47g
Vitamin A
100%
0
0
0
0
10%
Vitamin C
100%
0
0
0
0
0
Vitamin D3
100%
0
0
0
0
0
Vitamin E
100%
<1%
0
0
0
0
Thiamine
100%
2%
0
0
0
0
Riboflavin
100%
11%
0
0
100%
0
Niacin
75%
2%
0
100%
100%
0
Vitamin B-6
100%
<1%
0
250%
100%
0
Folic Acid
100%
0
0
0
0
0
Vitamin B-12
100%
0
0
83%
100%
0
Biotin
100%
0
0
0
0
0
Pantothenic Acid
100%
6%
0
50%
100%
0
Choline
18%
0
0
0
0
0
Chromium Picolinate
80%
0
0
0
0
0
Total Caffeine
110mg
95-150mg
35mg
80mg
80mg
115mg
The Ultimate Fuel for Health and Fitness!
Pre-Workout Drink
Net Weight: 11.28oz (320g)
Sale Price: $34.99
Add to Cart
6 or more only $29.99 each!
One Bottle Prefuel® = 32 scoops!