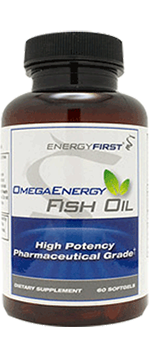 OmegaEnergy Fish Oil
The Highest Potency, Purest, USP Certified, 2-1 Ratio EPA/DHA!
The Unrivaled EnergyFirst Omega-3 Fish Oil!
| | |
| --- | --- |
| Quantity | Price |
| 1 – 2 | $19.99 |
| 3 + | $16.99 |
60 capsules per bottle.
EnergyFirst Omega-3 Fish Oil is USP certified and clinically proven to support both cardiovascular and brain health - including reducing your risk of Alzheimer's disease - while also promoting healthy weight loss and lean muscle development. Treat yourself to the cleanest, highest-quality, most cost-effective fish oil available!
According to the Physicians for Heart and Brain Health, the ideal EPA/DHA ratio is 40/20. EnergyFirst Omega-3 Fish Oil contains this perfect ratio, which has been shown to promote a healthy cardiovas cular system, optimal brain function, sound visual acuity, and normal growth and development.
Offers the richest potencies of crucial EPA/DHA of any fish oil currently available.
Each easy-swallow capsule contains 1 full gram of pharmaceutical grade fish oil.
Free of heavy metals, PCBs, and other toxins due to stringent molecular distillation.
Helps to alleviate depression. In one study, 64% of the manic-depressive patients who took fish oil reported a measurable improvement in their symptoms, as opposed to only 19% taking a placebo.1
Supports cardiovascular health.2
May help prevent neurodegenerative disorders like Parkinson's and Alzheimer's disease.3
Fish Oil improves autoimmune and inflammatory diseases in humans, including migraine headaches, rheumatoid arthritis, multiple sclerosis, Crohn's disease, lupus erythematosus, psoriasis, and ulcerative colitis.4
There are very few side effects from fish oil.
Learn about Fish Oil Side Effects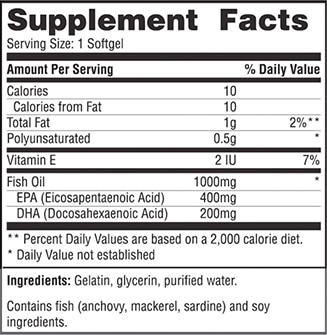 Why is Omega-3 Fish Oil
a Health Essential?
Omega-3 essential fatty acids (EFAs) are crucial for overall health and disease prevention, but they must be supplied by food and/or supplements as the human body can't produce them. Two of the most important EFAs-found abundantly in fish oil-are eicosapentaenoic acid (EPA) and docosahexaenoic acid (DPA). EPA and DHA are especially important for fetal brain development, as well as optimal cardiovascular health, diabetes and Alzheimer's prevention, proper brain function, and general wellness for infants, children, men, women, and seniors.
Fish Oil - A Vital Health Ally
According to a wealth of scientific studies spanning the last few decades, DHA/EPA rich fish oil is a proven ally, both in promoting optimal health in people of all ages, and in helping to prevent numerous disease states. For example:
Fish Oil Helps Your Cardiovascular System By:
Cutting your risk of both fatal coronary heart disease and sudden cardiac death by up to 36%.5
Decreasing dangerous blood clots in the veins (thrombosis) and helping to prevent cardiac arrhythmias-an abnormal rate of muscle contractions in the heart.6
Lowering blood pressure by expanding blood vessels naturally.7
Helping to prevent diabetes by reducing triglycerides-potentially dangerous blood fats-by up to 50%.8,9
Slashing your risk of atherosclerosis.10
Minimizing disease promoting, chronic inflammation, which can both promote and aggravate cardiovascular disease.11,12
Fish Oil Helps Your Brain By:
Preventing and alleviating depression naturally. Low plasma DHA levels seem to equate to reduced concentrations of serotonin, which in turn is strongly associated with depression and suicide.13
Minimizing risk of ADHD. In one study, subjects demonstrated sufficient learning problems to place them in the ADHD category. However, after three months of taking fish oil, half of them showed significant improvements, changing their possible ADHD status.14
Offering a plethora of omega-3 benefits to patients with psychiatric disorders-given the high prevalence of cigarette smoking, obesity, and the metabolic side effects of certain psychotropic medications.15
Acting as an anti-inflammatory agent, thereby helping to normalize age or dementia-related decline in cognitive (brain) function.16
Fish Oil Helps Your Body By:
Reducing risk of prostate cancer.17
Docosahexaenoic acid Essential omega 3 fatty acid integral to the health of all cell membranes, nerve and brain function. Must be gotten through the diet via cold water oceanic fish or some very limited plant sources or taken as a supplement. H Protein hormone that modulates metabolism including glucose and fatty acid catabolism. High levels are associated with low body fat.elps prevent both insulin resistance and diabetes by improving how your liver processes sugar.18
Providing an "anti-obesity effect" through the inhibition of lipid (fat) synthesis. May also minimize weight gain by promoting fatty acid oxidation (fat burning).19
Helping prevent age-related macular degeneration (vision loss).20
Slashing your risk of many diseases that involve inflammatory processes, like rheumatoid arthritis, asthma, cardiovascular diseases, even cancer. 21,.22
Why is EnergyFirst OmegaEnergy™ the Superior Fish Oil Choice? Compare for Yourself:
Product
Total EPA/DHA per Capsule (mg)
# of Capsules per Bottle
Total EPA/DHA per Bottle (mg)
Cost per Bottle
Cost per 1,000mg of EPA/DHA
USP Certification for EPA and DHA
EnergyFirst OmegaEnergy
Fish Oil
Capsules
600mg
60
36,000
$19.99
$0.55
Yes
Mercola Krill Oil
120mg
60
7,200
$24.95
$3.47
Unknown
Antarctic Pure -
Krill Oil
120mg
60
7,200
$24.95
$3.47
Unknown
Iceland Health - Maximum Strength Omega-3
500mg
30
15,000
$39.95
$2.6
Unknown
GNC - Preventive Nutrition Omega Complex
100mg
108
103,800
$14.99
$1.39
Unknown
Nutrilite - Omega 3 Complex Ocean Essentials Heart
600mg
90
54,000
$43.95
$0.81
Unknown
ZONE- EicoPro Capsules
600mg
120
72,000
$57.76
$0.81
Unknown
Ultimate Omega
(Nordic Naturals)
300mg
60
18,000
$13.95
$0.69
Unknown
OmegaRx Fish Oil
600mg
120
72,000
$50.00
$0.69
Unknown
ZONE- EicoRx Capsules
600mg
120
72,000
$49.56
$0.67
Unknown
Dr. Weil - Omega-3 Complex
500mg
60
30,000
$19.99
$0.67
Unknown
ZONE- OmegaRx Capsules
600mg
120
72,000
$40.76
$0.57
Unknown
Note: The following comparison chart addresses the cost of EPA/DHA rich omega-3 fatty acids per gram. While some reviewed products offer ingredients apart from EFAs that may yield health benefits, the cost of long chain omega-3s is the sole calculation for our purposes here.
Benefits of Omega-3 Fish Oil
Did you know that - as important as they are - your body can't manufacture essential fatty acids such as EPA and DHA? For your health's sake, make it a point to consume these crucial fats daily through food and/or fish oil capsules.
They say good things come in small packages, but few things exemplify this like fish oil
capsules. The list of benefits offered by this extraordinary fat-from boosting immune
health, to minimizing symptoms of depression, to helping curtail obesity, to promoting a
healthy heart-are more than impressive.
Research suggests that fish oil can help expectant mothers, infants and toddlers by paving
the way for healthy brain development, learning, and language ability. Omega-3 rich fish
oil may also help prevent learning challenges, such as ADHD. In fact, deficiencies and
imbalances of these crucial fats-not only during the developmental phase, but throughout
the human life span-have significant effects on brain function.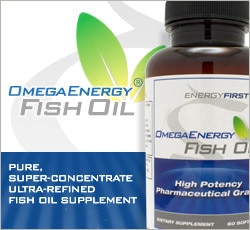 Omega-3 EFAs play a central role in the normal development and functioning of the brain and central nervous system. Long-chain fatty acids-such as DHA/EPA-are involved in numerous neuronal processes, from maintaining healthy cell membrane fluidity to gene expression regulation.
Research suggests that DHA/EPA rich fish oil is especially important for children and expectant mothers, as omega-3 EFAs support healthy brain development, learning and language skills. Deficiencies and imbalances of these nutrients, on the other hand-not only during early developmental phases, but throughout the entire life span-can impair healthy brain function.
For example, neurocognitive disorders like attention-deficit hyperactivity disorder (ADHD), dyslexia, dyspraxia and autism spectrum disorders are often associated with a relative lack of omega-3 fatty acids.23
Additionally, omega-3 EFAs found in fish oil are regarded as nutraceuticals in anti-aging medicine-a term referring to foods with health or medical effects-given their beneficial influence on digestive and immune systems, and their ability to improve inflammatory and degenerative processes in the body.24
Although we present only a sampling of the many research studies attesting to the vast array of health benefits fish oil provides, the message is clear. Daily supplementation with 1-3 grams of high-quality fish oil is one of the smartest health decisions we can make.
Why Are Omega-3 EFAs Essential to Your Health and Well-Being?
While some dietary fats get a bad rap - given that they factor into a variety of health problems - other fats are not only beneficial, they're literally essential. Omega-3 EFAs are a case in point, with EPA and DHA being especially important. The problem is, our bodies can't manufacture these crucial fats as needed, they must be consumed through food and/or fish oil capsules.
While you can obtain sufficient levels of DHA/EPA from your diet alone, to net at least one gram per day-the equivalent of one EnergyFirst OmegaEnergy™ fish oil capsule-you would need to eat 3 to 4 ounces of prime sources such as salmon, mackerel, herring or sardines. However, not many Americans consume fish on a regular basis, either due to cost, preference, or availability. This is a big reason why we as a nation tend to be deficient in these important EFAs.
Many people prefer to supplement OmegaEnergy™ fish oil capsules not only because they offer a convenient, cost-effective way to obtain the plethora of health benefits these EFAs offer, but also to avoid the dangerous toxins, PCBs, and heavy metals increasingly present in many types of fish-especially shark, swordfish, Albacore tuna, tilefish and king mackerel.
Why not cover your bases every day with safe, molecularly-distilled, pharmaceutical grade fish oil capsules, while also enjoying fresh, clean, sustainable seafood as a bonus when you have access to it?
Fish Oil Capsules: Boost Your Wellness Now - Protect Your Health for Years to Come!
f you've ever had unpleasant side effects with fish oil capsules, such as stomach upset, or inconvenient "repeating," you're in for a refreshing change with high-quality, easy-digesting, pharma-
ceutical grade fish oil. And that's not all. You're also getting a better value with EnergyFirst fish oil, since each capsule contains more health-boosting EPA and DHA-delivered in the ideal 40/20 ratio-than most other brands, including Pharmax, Carlson, Iceland, and Nature Made, among others. Bonus? EnergyFirst even costs less per mg. of EPA/DHA.
References
1 Arch Gen Psychiatry. 1999;56:407-412
2 J Am Coll Cardiol. 2011 Nov 8;58(20):2047-67
3 Int J Dev Neurosci. 2000 Jul-Aug;18(4- 5):383-99
4 J Am Coll Nutr. 2002 Dec;21(6):495-505
5 Am J Clin Nutr. 2008 Jun;87(6):1991S-6S
6 Pharmacol Res. 1999 Sep;40(3):211-25.
7 http://www.nlm.nih.gov/medlineplus/drugin-fo/natural/993.html.
8 http://www.nlm.nih.gov/medlineplus/drugin-fo/natural/993.html,
9 Ann N Y Acad Sci. 1993 Jun 14;683:16-34
10 Nippon Rinsho. 2011 Jan;69(1):79-84
11 Curr Atheroscler Rep. 2004 Nov;6(6):461-7
12 Mini Rev Med Chem. 2004 Aug;4(6):659-68
13 Lancet. 1998 Jul 4;352(9121):71-2
14 Pediatrics May 2005, Vol. 115, No. 5: 1360-1366
15 J Clin Psychiatry. 2007 Feb;68(2)
16 Exp Gerontol. 2010 May;45(5):375-80. Epub 2010 Mar 1.
17 Cancer Prev Res; 4(12); 1–10. ©2011 AACR.
18 http://www.ncbi.nlm.nih.gov/pmc/articles/P-MC2698663/?tool=pubmed
19 J Atheroscler Thromb. 2009 Oct;16(5):674-83.
20 Arch Ophthalmol. 2008 Jun;126(6):826-33.
21 Proc Nutr Soc. 2002 Aug;61(3):345-58.
22 Nutr Rev. 2010 May;68(5):280-9.
23 Eur J Pediatr. 2010 Feb;169(2):149-64. Epub 2009 Aug 12.
24 ActaClin Croat. 2010 Dec;49(4):537-44.
| | |
| --- | --- |
| Quantity | Price |
| 1 – 2 | $19.99 |
| 3 + | $16.99 |
60 capsules per bottle.

If for any reason you are dissatisfied with your
purchase, simply return the
unused portion within 90
days for a full refund.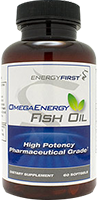 Purest & Highest
Potency
Offers the richest
potencies of crucial
EPA/DHA of any fish
oil currently available.