Lot of Energy Stuffs to Pick
Hi ,

Welcome to the EnergyFirst Edge for November!

We all know EnergyFirst to be the home of the world's best ProEnergy protein and Greenergy green superfood drink. EnergyFirst is now also offering free shipping on all orders over $150. There's no excuse not to stock up on all your favorite products for the holidays and the New Year.

As you can see, we've updated the look and feel of our website while adding enhanced functionality along the way. Let us know what you think and how we can continue to serve you better. Please also email us anytime with thoughts on how we can improve our products, messaging, or service in any way. Let us know how we're doing!

Travel Packs are back! We're now fully stocked with Travel Packs for both flavors of ProEnergy and Greenergy as well. The Greenergy is in a single serving stick pack while the ProEnergy comes in a packet with 2 scoops of powder. Our new Blender Bottles are amazing and are the ultimate way to mix up a shake on the road. Check out the new specials we're running on Blender Bottles and Travel Packs.

We are currently running a contest for the most inspiring success with the EnergyFirst program and products. We'll be announcing our winners early next year. If you have a message to share, please email us with your inspiring story and picture. I have read some incredible testimonials so far. It's great for us to feel like we're making a difference and we can all benefit from your inspiration.

This month's newsletter talks about "beating the bonk" with proper nutrition, fighting prostate problems, the benefits of wheat grass, raw nuts, and our amazing Pain and Inflammation Enzyme Blend. I hope you enjoy this month's articles and message.

Yours in good health,
Gerry T. Morton | President & CEO
---
Beat the bonk with carbs
Carbs have become a dirty word for those trying to shed extra pounds. The ever-popular Atkins diet restricts carbs severely, and most fad diets and eating-behavior-modification regimes days limit carbs in some way.


Read This Article
---
Fight pain and inflammation with a simple enzyme
If you're a weekend warrior athlete or home-improvement fan, you may be sore on Mondays and Tuesdays. Overdoing it can cause painful inflammation. When your muscles, tendons, and ligaments swell, they hurt.


Read This Article
---
Prevent prostate problems with saw palmetto & nettle root extract
It's well-established that men over the age of 40 can suffer from frequent urination due to an enlarged prostate that exerts pressure on the urethra. In fact, 50% of all men over 60 suffer from an enlarged prostate.


Read This Article
---
Love nuts? Eat 'em raw—here's why.
If you're a nut fan, you probably feel good about consuming a tasty food that's high in Omega 3 oils. After all, Omega 3's are good for you, right? Correct, but roasted nuts aren't good for you…and raw nuts are.


Read This Article
---
Wheat grass packs a powerful punch to detoxify
What if you could distill all the vitamin-rich, power-packed goodness of two pounds of green vegetables down to one little ounce of juice? Would you swig it down?


Read This Article
---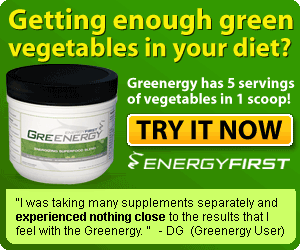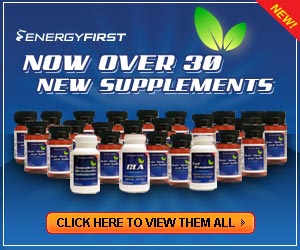 Healthy Lifestyle Basics from EnergyFirst: