EnergyFirst Success Stories
Are you an EnergyFirst success story?
Click here to tell your story...
I love the Greenergy product!!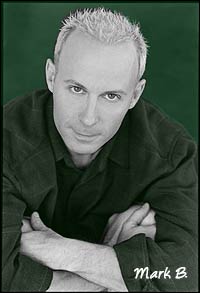 Just wanted to write to say I love the Greenergy product! In fact I love all your products. I've been taking the Greenergy since November of 2004 and I must say it's amazing. Before that I was always tired and had to take naps like 4 times a week in the middle of the day. But once I started taking Greenergy I haven't taken a nap since.
It gives me this sustained energy throughout the day, unlike coffee where that gives you this jolt for a little while than you quickly come down off it within an hour or two. With the Greenergy I feel like I am getting more things accomplished, I focus better, and I no longer wonder if I should take a nap to recuperate a little or if I should just hold out and see if I can last for the whole day. Not only that, but I seem to sleep better at night and I feel more rested the next morning. And I've noticed that if I somehow skip a day and forget to take the Greenergy, it doesn't affect me because I've been so rested now. But one time I ran out of the Greenergy and forgot to order more, and after a week of not having it I started to feel the difference. I started to feel sluggish and wanted to take a nap. So obviously, there are nutrients, vitamins, and minerals which I wasn't getting before using Greenergy.

Once I started taking it again, my body and mind went back to being more efficient and "normal", if you will. Who knew! Get yourself some today! It's an amazing product!
Mark B
Actor, Fitness Instructor, Massage Therapist
---
I love the EnergyFirst products!
"I searched high and low to find a naturally sweetened protein powder and used only whey isolate. The ProEnergy has that and it tastes great!
I make my shakes with strawberries and the Omega Mix and never miss a morning shake. I really feel the difference with the Greenergy as well. I like to stir a scoop of the Greenergy in water during the day to keep my energy levels up. "
Thank you EnergyFirst!
Doug G. - Nashville, TN
---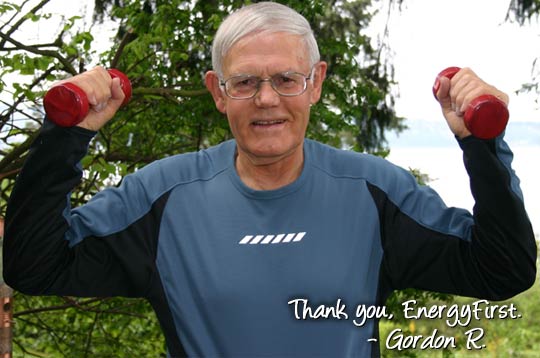 After years of using your protein shakes, listening to tapes on proper eating and body fat reducing, and Heavy Hands workouts, I can say that there has been a very positive change for me. I have the advantage of an athletic background and participation in high school coaching, which helps in understanding the principles involved.
Due to
diagnosis of prostate cancer
about 11 years ago, I decided to go all out in getting myself in as good shape as possible through proper nutrition, supplementation, and a daily exercise program. When I was teaching health education years ago, I knew then that the weakest information available was about nutrition. Since then I have observed that the weakest field in medicine is also in nutrition.
Since I have developed an eating program patterned on EnergyFirst principles, I have lost body fat, gained muscle tissue, and have more energy than ever! My background in physical education and coaching has been instrumental in setting up an exercise program to reach all skeletal muscles, but particularly strength in the back. Recording everything that I do both workouts and what I eat has shown to me what can happen and is a positive reinforcement to continue. The principle of my early morning workouts is sound. My oncologist says that whatever I have been doing, to "keep it up!" My dental hygienist complements me on my skin. She says she rarely sees facial skin in as good shape as mine. Of course, that led up to a discussion on good fats and supplements.
Finally, in one of your tapes it mentions the rocking chair will kill older people. I am convinced that as we get older that we need to become MORE active, not less. Many of my neighbors and friends who see me out in the early dawn are impressed with my commitment and wish they had the energy to do the same. What they don't realize is if they do what I do they would have more energy than they ever realized!
Thank you, EnergyFirst.
Gordon R.
---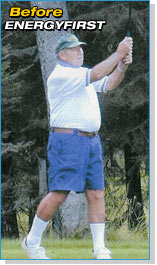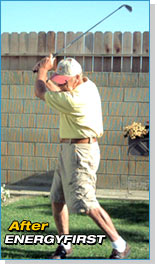 "A year ago this month, I was diagnosed with Diabetes. While visiting my son, Lindon, Jr., he introduced me to EnergyFirst. At first I was skeptical because the doctor had put me on a diabetic diet and pills. No insulin. I decided to try EnergyFirst for a month and then make up my mind. Needless to say, I am pleased I decided to use EnergyFirst products. With my first order I received a
book, audio tapes, and brochures
. The book I received has some great chapters for diabetics. When I first became a diabetic I weighed 254 lbs. With the help of eating properly, exercising, and using
EnergyFirst products
, I have lost over 50 lbs. My energy is great due to the fact the the shakes carry me through the day. I eat a light breakfast,
a shake for lunch
, and a normal dinner around 6 p.m. My wife, Sandy, has now started to use EnergyFirst and has noticed a difference in her activities. "
Lindon C.
---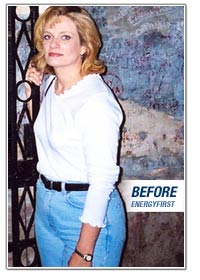 EnergyFirst client for life!
"I have been excersing regularly for about a year. Several months ago I began gaining weight and it was not lean muscle it was fat. My clothes weren't fitting well and I suddenly had a roll around my mid section. I thought I was eating right so I couldn't understand what was happening. I started doing some research and realized I may not be eating enough protein. As a matter of fact I was eating little or no protein! I discussed this with one of the fitness instructors at the YMCA where I am a member. She agreed and suggested protein shakes or smoothies to help me get the amount of protein needed. The search was on for just the right protein powder and that is how I found EnergyFirst. After several emails to
Lisa, the Quick Start Guide
, and reading most everything on the website, I placed my first order, a
shake kit
. I am happy to say after eight weeks on the program I have lost 9lbs but that's not all. I have noticed some other things I never expected.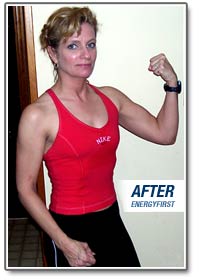 For the past four years I have not gone more then 3 1/2 weeks without a migraine headache. I am happy to say I have not had a migraine in 7 weeks! Also, everyone in my family got sick at once starting with my son. He got the flu then my mother caught it and ended up with pnuemonia, my father got a cold and my fiancee ended up with bronchitis. I am the only person that did NOT get sick! Wait, that's still not all! I have always been somewhat of a moody person. My fiance has commented that I seem much happier lately and not moody. He also said my skin feels so much softer. I am truly amazed and overjoyed! I'll be an EnergyFirst client for life!"
- Mary C.
Start with a Free Health and Fitness Guide

More Success Stories...
"I first heard of Energy First products a few years ago. For some reason, I delayed using their products. The sad part is, I also delayed getting results. I began using Energy First, Energy shakes, at the end of March 2003 after hearing Lisa Anne Leslie speak at the Excellence in Dentistry conference. By August 15 th , I have lost 30 lbs. Everyone that sees me wants to know what "diet" I am on. I tell them, "I am not on a diet. I have changed my eating habits." I cannot thank Lisa enough for her concern, support, and her informative tapes. Her knowledge, coupled with Energy First's products, have been absolutely life changing for me."
— Penny Reed, co-founder Dental GeniusT
"I do not like remembering what my life was like before I began using your products, and I shudder to think what my life would be like again if I stopped using them!!!"
— Ellen Bryant

"I am feeling wonderful, and getting excellent results. I have more energy, strength, and endurance. ...Thank you does not fully express how much I appreciate your introducing this program to us."
— Terry Burdick
"Prior to starting the program my doctor had warned me that my cholesterol level was 340. Within the first 5 weeks of the program, my cholesterol level dropped to 177."
— Gary Chaves
". . . it has been 72 hours (like you said) and I feel like a completely different person. . . . and it has only been 3 days!"
— Lori Palmer
"A most remarkable result. In eight years, no one has come close to across the board impact . . ."
— Dick Swanson, Investment Partners Inc.
"Your nutrition program is excellent. It has helped take my team to new heights. I believe in what you do more than ever. Thanks for all you touch."
— Skip Kenny, Head Coach, Stanford Varsity Men 's Swim Team, CA.
"Your presentation was part of everyone 's conversation throughout the conference, especially at meal functions! Quotes such as "very informative .I plan to incorporate his suggestions into my lifestyle," "very well received ",and "high energy .great speaker", confirms the consensus of our CEO 's that your presentation contributed to a very successful conference."
— Daniel L.Twarog, President, NADCA
"I wanted to write and thank you for sharing your lifestyle with me. It has made a dramatic difference in my life and in the lives of many others. I am off medication (Zocor)for the first time in 10 years, thanks to your program. It is truly life giving."
— Jack McCool, V.P.Human Resources and Legal Services, U.S.Oil
"I have been searching for a lifestyle based health enhancement program for my physical therapy clinics for 10 years, and yours is the only one that fits the bill. There are so many programs available that promise much and deliver little. Your program delivers everything it promises, and not just for a 12-day or 12-week time frame - this program is something I and my clients will sustain for a lifetime. That is where its true benefit lies."
— Laurence Benz, Founder, Kentucky Orthopedic Rehab Team and Genesis Lifestyle Centers.
"You undoubtedly are doing great work that has enormous humanitarian value, but also has real bottom line benefits for the companies progressive enough to employ your services."
— Bill Scherer, TEC Chair
"I can 't thank you enough for the positive impact you have had on my life. I have to believe that there was a little divine intervention in getting you to TEC in Feb.,1997. Since that time I have come to truly enjoy the process of improving and maintaining my health."
— Scott Lynch, Bob Lynch Ford
"As a dentist and biochemist, I find your program the simplest and most effective lifestyle program that I have ever encountered. The biochemistry and physiology behind your program is cutting edge, and the implementation simple to follow. You are in the business of changing people's lives, and you are doing a remarkable job at it."
— Dr Stuart Nunnally, Marble Falls , Texas
"I would like to thank everyone involved in the EnergyFirst Program. It has completely changed my life. I have lost 20 pounds in the last 6 months. I believe the weight I have lost has been only adipose tissue and that no muscle tissue has been sacrificed. My body fat composition has dramatically changed due to this fact. 2 months into the program I had my body fat composition measured and it was 27% fat. I had already lost three inches around my waist the first time this was calculated. I currently have dropped 2 more inches around my waist (for a total of 5 inches) and my body fat composition is now 14.5%. An amazing loss of 12.5% fat and that does not include the first two months. I truly believe that I am not as lean as I can be. My goal is to reach 10% body fat. I know that I can achieve that goal and go lower if I want. I am in complete control now. One of the best features of this system is to change the focus from weight to body composition. After all if you lose weight but most of it is water and muscle your just as fat as you were but now you're weaker and dehydrated. This program eliminates those worries.
The other aspect of my life that has changed is getting my blood pressure under control. I was taking a blood pressure medication in the beta blocker family. While on the medication my blood pressure was about 130/90. Lowering it to the border line area. I have now been off my medication for about 2 month and this week my blood pressure was 120/75. I can hardly believe this dramatic turn around. Another positive is that my resting heart rate has lowered to 53 beat/min. and my total cholesterol has dropped about 20 points. Not only has this program given me control of my body composition, it has also given me control of my health.
Another aspect that I have been so pleased with is the amount of energy that I now have. Normally I would get off work and be worn-out but now I the energy to do activities that I need to do or want to do. There is clearly a difference between being tired and having no energy. When you have both, it's very difficult to be active but as I have corrected both, my energy level has significantly increased. The energy alone is worth changing your eating habits and when you add on all the other benefits your left wishing you had know about this all your life. This makes the program very easy to stay on. If you start eating poorly again, the high energy you have disappears and the tired and sleepy feeling return. As soon as that happens I correct my eating habits and I'm back on track before I have the chance to get fat again. The program has several self-checks like this and that makes it clear if you are where you need to be or not.
Thanks again EnergyFirst. You've changed my life.
—Joey Harbison, P.T." October 2001
For the past 20 years, I have lost and regained the same 10 - 15 lbs over and over again. I have tried low fat-high carb diets—only to get fatter. I exercised more and more in an attempt to "burn" the calories I was eating. I put about 65% of my effort into exercise and working out with about 20% in supplements and 15% of my effort into the nutritional aspects of my diet. I knew I should eat "healthy" but I craved carbs and PMS was out of control. Because I was not a big fan of eating meat, I protein intake was low. I was tired a lot and had mood swings. Last November at a dental implant meeting I heard about EnergyFirst and their Healthy Lifestyle Plan from a dentist at the meeting. What he said made a lot of sense to me and he looked great; so I started researching EnergyFirst as soon as I got home. I ordered the EnergyFirst tapes and started to learn more and more about blood sugar, balanced nutrition and the importance of protein and good fats in the diet. I ordered the whey protein powder and started doing the shakes twice a day. It was amazing! Not only did the body fat start falling off, I started feeling more energetic and less moody. And I was not hungry! I greatly reduced the carbohydrates in my diet and actually reduced my exercise regimen. Instead of working out at the gym for 2 hours 5 days a week, I just started walking with hand weights 3-5 days a week for 30 minutes. I have always been a heavy water drinker, but I started to drink even more. When my husband saw the success I was having, he started the shakes too. I have lost over 23 lbs of body fat and inches in my waist, thighs and abdomen. I have gone down 2 dress sizes. My PMS symptoms have drastically reduced and continue to get better. My husband has lost 25 lbs of body fat and looks great! My children have the shake every morning for breakfast. My 14 year old daughter has been able to eliminate taking medication for ADHD by changing her nutrition. My 11 year old son plays sports and is a huge fan of Joe Dillon. He drinks shakes and eats squeaky clean to improve his athletic performance.
We were so impressed with Lisa Leslie from EnergyFirst and how much she has helped us, we decided to bring her to Memphis to speak to our referring doctors and their staffs and family members. The response was fantastic. Many of the attendees have reported success implementing Lisa's recommendations. Lisa's presentation was very professional and easy to understand. She is personable and is happy to answer questions from the audience. Lisa Leslie has been wonderful to work with as well. She is my "nutrition coach." When I have a question or a concern in a health area, she is willing to help and gives great advice. I highly recommend Lisa and the EnergyFirst team - their vast knowledge about exercise and nutrition and their desire to change people's lives in a positive direction make them an incredible combination!
—Jeannie Loconte, Cordova TN