Grill great food - safely!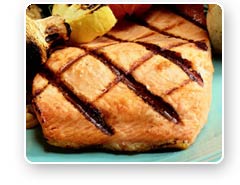 From backyard barbecues to block parties, summertime is grill time. Whether you grill with gas or charcoal, grilling usually means bratwurst, steaks, chicken and burgers.
Grilling food outside is a great way to get that wonderful outdoor taste…and to avoid heating up your house by cooking indoors.
However, to grill great food that's great for you, there are two key areas you'll want to watch
One is the amount of char you allow on meat. Studies have shown that charred, blackened foods contain high amounts of carcinogens that can cause cancer.
To avoid charring the outside of the meat while the inside remains raw, when you cook over charcoal, push the coals to one side and spread them out. If your grill is circular, this means you'll have hot coals on one side of the circle.
When you put the meat on, start it on the side without coals, then when you turn it, move it a bit closer to the coals. This allows the entire piece of meat to heat without charring the outside. As the coals die down, you can finish your grilling by moving the meat to the coals side to crisp the skin or exterior.
The other part of healthy grilling
involves choosing healthy foods to grill.

Consider adding some healthy dishes to your menu including poultry, fish fillets, roasted vegetables or even grilled fruits such as mangos.
Make an effort choose foods that you already enjoy, yet don't traditionally use for grilling, like poultry, fish, lean meats and vegetables.
Gerry Morton, CEO of EnergyFirst, has these suggestions for healthy foods to grill:
Choose white-meat poultry without the skin and lean cuts of meat, such as sirloin, flank or tenderloin.
Turn often to avoid overcooking or burning.
Trim visible fat off meat after cooking.
Leave poultry skin on for flavor while grilling—remove before eating.
Marinate meat to add flavor and to keep it tender. Before grilling, pat dry and add a dry spice rub.
For fish, place thick flanks of fish directly onto the grilling grates. Place thin fish fillets on foil, or in foil packets along with lemons, vegetables and your favorite herbs.
Grilled, cheeseless pizzas can be a super way to cut fat but not flavor.

Another healthy idea is to make your next grilled meal meatless. Eggplant, summer squash, bell peppers, sweet onions, small tomatoes, mushrooms, mangoes, pineapples and peaches all work well on the grill.
Burn Fat & Boost Your Immune System with EnergyFirst Omega 3 Fish Oil - Click Here
For dessert, instead of fat-laden ice cream or cake, look to fresh fruits. The dry heat of grilling intensifies and caramelizes the natural sugars in fruit. Favorite fruits on the grill include halves or slices of apricots, peaches, pineapples and nectarines. Or, grill slices of angel food cake and top with chilled strawberries, blueberries or raspberries.
Gerry Morton, CEO of EnergyFirst, is an experienced athlete who has competed in 30+ marathons and 4 Ironman triathlons. Gerry is an excellent source of information on nutrition, supplementation and exercise. Since 1997, he has been educating and motivating others on how to attain peak performance.