EnergyFirst Ultimate Vanilla Protein Powder - The Best Tasting Protein
Ultimate Vanilla Protein Powder
Best Tasting Protein

ProEnergy is made with only whey isolate from grass fed cows not treated with rBGH, the highest quality natural protein powder with the highest biological value of any protein in existence today. Sweetened naturally with stevia leaf extract, this product is low glycemic, perfect for fat loss, promotes stable blood sugar, and is ideal for diabetics or bariatric patients.

ORDER A CASE OF 4 and
SAVE UP
ORDER A CASE OF 4 and
SAVE 32% Details
Share Page:
Research has shown the stevia helps stabilize blood sugar, and may reduce blood pressure.
ProEnergy from EnergyFirst is made with organically sourced, grass-fed, rBGH free whey protein isolate. The highest quality natural protein powder available anywhere.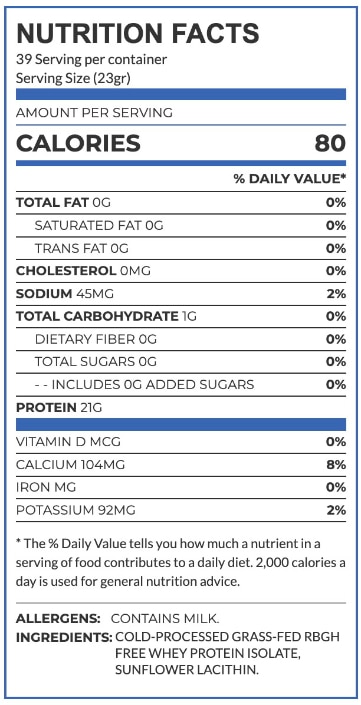 Read the Whey Protein FAQ's - Click Here
ProEnergy is made with only the best whey protein isolate, the highest quality, most bioavailable protein in existence. Our
natural protein powder
is the perfect fuel for building lean, strong muscle.
The most scientifically advanced cold cross-flow microfiltration process is used to produce EnergyFirst ProEnergy.
highest quality protein
highest potency protein
lactose free protein
fat free protein
cholesterol free protein
EnergyFirst ProEnergy 100% Whey Isolate Protein Powder is core to the EnergyFirst Maximum Energy Program.
Supplement Facts for Ultimate Vanilla
Serving Size: 1 scoop (25 grams)
Servings per container: 36
Calories 90
Calorie from fat 0g
Total fat 0g
Cholesterol 0mg
Total Carbohydrate 2g
Protein 20g
Vanilla Protein Powder Ingredients:
Ultimate Vanilla: Cold-processed grass-fed rBGH free whey protein isolate, Natural flavors, Guar gum, Lecithin (from non-GMO sunflower seeds), Stevia leaf extract.