Have Enough Vegetables

Getting enough vegetables? Probably not... With Greenergy, you get all vegetables you need in ONE small scoop.


---
Prevent premature aging with proper skincare
There's a lot to be said for outdoor exercise. Running, cycling, swimming, hiking, and tennis are all wonderful activities for keeping 95% of your body in top condition. But what about the other 5% of your skin?

Read This Article
---
Brain fuel for on-the-go professionals
We live in the information age. If you're a professional, you're constantly solving problems, making decisions, evaluating options and thinking through complex issues.

Read This Article
---
The Top 12 Ways to Get a Great Night's Sleep
If you've been having trouble thinking straight, putting on pounds, or if you've had a road rage incident lately, the culprit might just be lack of sleep.

Read This Article
---
Fight childhood obesity by heeding the risk factors
Living in the land of plenty can have drawbacks: according to USA Today, three out of every ten American kids are overweight or obese. How can you tell if your child is overweight or just stout?

Read This Article
---
Twenty reasons to avoid sugar
At some point you've probably experienced the "sugar blues" - that lethargic feeling you get thirty minutes or so after eating candy, dessert, or having a soda. You realize that sugar wreaks havoc on your energy levels long-term.


Read This Article
---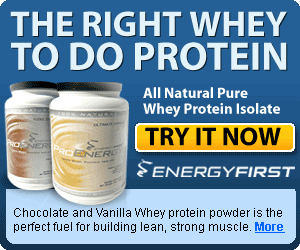 Healthy Lifestyle Basics from EnergyFirst: