This formulation will provide the extra nourishment needed to keep hair, skin and nails strong and beautiful. Optimal health of hair, skin and nails starts from the inside, and requires the proper nutrients to insure their beauty and nourishment.
Achieve Beautiful and Strong Hair, Skin & Nails. Each Bottle Contains 60 Capsules.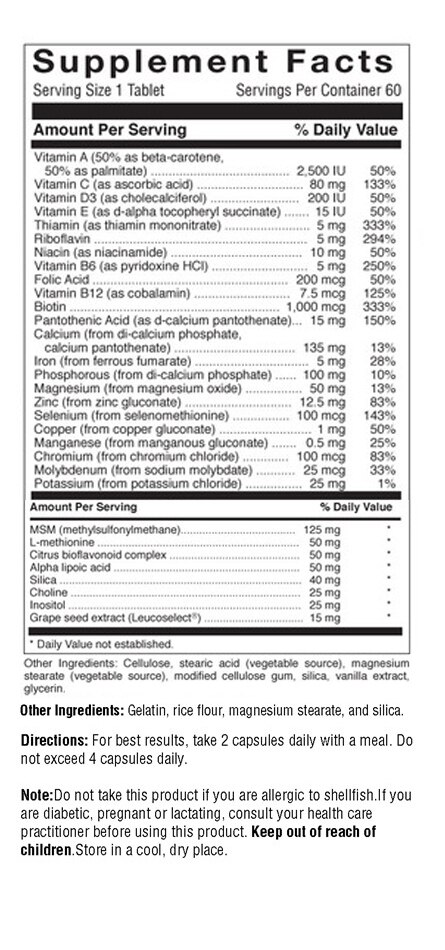 EnergyFirst created an all-in-one healthy hair supplement, strong nails supplement, and beautiful skin supplement. There are many nutrient deficiencies, especially vitamin deficiencies that manifest visibly in hair, nails, and skin. Do you struggle with thin, dull hair? Do you have thin, brittle nails that easily break? Your skin can show signs of vitamin deficiencies, too. Pale skin, skin that is too oily or too dry or skin that isn't clear can all be signs of nutrient deficiencies.
Our beauty-boosting formula contains the combined benefits of vitamin A, vitamin E, vitamin C, iodine, biotin, L-cysteine, borage oil, selenium, silica, collagen type II, flaxseed oil, L-methionine, astaxanthin and zinc. These nutrients work best when they work together, which is how they are naturally found in nature.
Learn about the way each nutrient in our supplement works to improve the health and strength of your hair, skin, and nails.
Vitamin A - An essential carotenoid, vitamin A is one powerful antioxidant that fights oxidative damage, can prevent certain cancers, maintains teeth, bone, and eye health, and is used to treat certain skin disorders.
Vitamin E – This is your skin vitamin! It is an antioxidant that prevents oxidation of fats inside the body and protect the skin from free radical damage, especially from UV radiation.
Vitamin C - assists the immune system, protects the body by slowing down free-radical damage. Free radicals can make cause dryness or lines and wrinkles on skin.
Iodine - a mineral that supports the thyroid gland in the body. A deficiency in iodine can lead to poor hair growth or dry hair, skin, and nails.
Biotin - a co-enzyme that helps metabolize carbohydrates, fats, and amino so your body can use the nutrients.
L-cysteine - an essential amino acid that can help prevent cell damage
Borage oil - a plant oil that helps reduce inflammation.
Selenium - an antioxidant mineral to strengthen your immune system and support cardiovascular health
Silica - a plant that humans have used for years to support skin health. Silicon is found in the strong outer layer of healthy hair.
Collagen type II - helps maintain moisture in your skin, which can help maintain skin structure
Flaxseed oil - an essential fatty acid that supports a well body and can reduce visible signs of aging
L-methionine - an essential amino acid that helps the body eliminate harmful toxins.
Astaxanthin - A carotenoid antioxidant which attacks free radicals in the body.
Zinc - an essential trace mineral, which is not made by the human body.
All of these ingredients work in harmony to bring positive results. Improve the appearance and health of your hair, skin and nails. A healthy body that meets its nutrient needs is less likely to have brittle hair shafts and weak fingernails that are prone to breakage. Our formula is free from many common allergens. However, if you have diabetes, are pregnant or allergic to shellfish, you should not take this supplement.
Most Americans cannot get the nutrient profile of this supplement from their normal diet because they don't eat the proper foods that lead to healthy hair, skin and nails. In other words, poor diets lead to poor nutrition of the body. To top that off, poor soil quality also contributes to nutrient-poor diets. Although we expect our produce to be nutrient-rich, much of the soil on which fruits and vegetables are grown is deficient in the vitamins and minerals we expect to get. The chronic stress most Americans deal with on a daily basis can naturally lead to vitamin and mineral depletion as well. EnergyFirst's supplement can give Americans the important vitamins and minerals that are lacking in our diets and lifestyle, which will in turn aid the body in producing strong nails, healthy skin and beautiful, healthy hair.
For added benefits, we also included our unique 74 Trace Mineral Blend and Proprietary Blend in our Strong Hair and Nails Formula. These ingredients include oats, white tea extract, milk thistle week, and bioperine. All of these ingredients have been shown to improve the health of hair, skin and nails.