Digestive Enzymes have become widely accepted and used to treat symptoms and health conditions associated with digestive problems.
Use Enerzyme to Promote Healthy Digestion! Each Bottle contans 90 Capsules.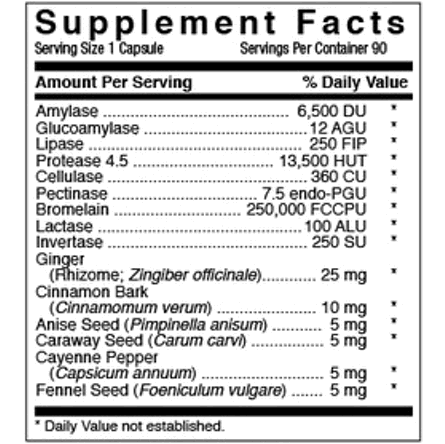 Eating healthy food is not always enough to stay healthy. In order for us to benefit from the healthy food we eat, our body needs to extract the nutrients from it with a healthy digestive system. The journey food takes through your digestive tract is divided into several stages. At every stage of digestion, different nutrients are absorbed by different enzymes in different regions of the gastrointestinal tract. There are specific enzymes that work to break down or absorb carbohydrates, proteins, fats, vitamins, and minerals, most of which are absorbed through the walls of the intestines.
Digestive problems can be embarrassing, uncomfortable, and detrimental to our health. It is important to make sure it is working efficiently so that we get proper nutrition for our health. What slows down digestion? Various factors that are associated with slow digestion or digestive problems include aging, stress, or specific diseases of the digestive tract. Symptoms of unhealthy digestive function can vary. Common symptoms include bloating, gas, heartburn, occasional diarrhea, occasional constipation, and general stomach cramps. You can avoid these unpleasant symptoms by combing Enerzyme® with a healthy, balanced diet.
Enerzyme® is a special blend that we have created to keep your digestive system running smoothly. The pH level of your body is equally important for keeping your digestive system healthy. An acid and alkaline balance is crucial for digestion. Our stomach uses acids to digest proteins. Other stages of digestion need an alkaline environment. Certain dietary habits or medication can tip the pH balance in either direction. Typical American diets have been shown to create an especially acidic environment in the body. Enerzyme® works to restore the pH balance that helps the body function at its best. Additionally, a balanced pH level helps prevent stomach ulcers and painful heartburn symptoms.
Health Starts with Digestion
A healthy digestive system is vital for your overall health. The digestive system uses about 22 different enzymes to break down food you eat. Each enzyme works at different regions of the gut and targets a specific food group. An enzyme deficiency can lead to poor digestion, poor nutrition, and poor health. For example, when your digestive system functions properly, you will be able to reduce fatigue, cardiovascular complaints, and reduce headaches. If you are lactose intolerant, you can use this digestive enzyme supplement to ease uncomfortable symptoms from ingesting dairy.
Enerzyme® also works as a shield against toxins, viruses and bacteria that infiltrate the body via the digestive tract to get to your bloodstream. A healthy digestive system can be your front-line defense or protection against infectious agents.
Multi-Enzyme Enerzyme®
What makes Enerzyme® a high-quality product? If you check out the ingredients list, you'll notice a variety of different enzymes were combined in the formula. This product has proteases (enzymes that break down proteins), lipases (enzymes that break down fats), and amylases (enzymes that break down carbohydrates). Because this is a high-quality product, you only need to take two capsules with each full meal. As each individual's body will respond differently to the ingredients present in Enerzyme®, it is not unusual to need to take more or less with each meal.
In order to determine the dose you need, you should discuss taking Enerzyme® with a health care professional. Enerzyme® works best with a healthy lifestyle. Enerzyme® works best when combined with a healthy diet. Avoid high fat foods and processed foods with added sugars. See your short-term and long-term health improve as a result.