This essential mineral maintains stable blood sugar levels through proper insulin utilization, and can be helpful both for people with diabetes and those with hypoglycemia. Chromium is best absorbed by the body when taken in Picolinate form.
Maintain Stable Blood Sugar Levels with Superior Chromium. Each Bottle = 100 Capsules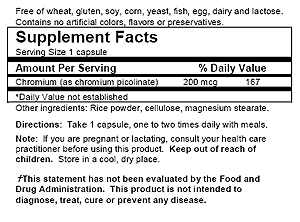 The trace mineral Chromium is an essential mineral that our body does not manufacture. We need to consume adequate amounts of Chromium in order to properly metabolize carbohydrates. Chromium improves carbohydrate metabolism by enhancing the function of hormones that helps prevent high blood sugar levels. Chromium also helps in proper protein and fat metabolism.
Chromium Picolinate converts carbohydrates to energy so you can forget fatigue symptoms that ruin your day. Many who approach weight loss programs incorrectly are fatigued and experience food cravings. Enhance and enjoy the process of weight loss by stabilizing your blood sugar. The hormone-enhancing effects of Chromium Picolinate are so great that it is used by type 2 diabetes patients to lower blood sugar levels and improve blood sugar balance.
The most common Chromium supplement available on the market is Chromium Picolinate. Chromium Picolinate is the best chromium supplement form because it is processed by the body quicker than any other form. That can only mean one thing: quicker results with Chromium Picolinate. It may sound too good to be true, but it isn't.
Why is Chromium suddenly so critical to our health?
With the rise of added sugars and simple carbohydrate from processed foods in the American diet (and the drop of eating complex carbohydrate sources), we have seen a widespread drop in chromium levels. The body responds to high simple carbohydrate intake and sugary diets by excreting or eliminating chromium through urination.
As if that isn't enough, our bodies are under a lot of pressure every single day. Stress can deplete our natural chromium stores. This is especially true of pregnant women. Chromium stores can deplete quickly during pregnancy and breastfeeding.
Low levels of chromium can cause energy crashes that make many susceptible to depression. In fact, chromium is also a common remedy for depression. A recent study by Duke University Medical Center found that a high source of chromium can be a natural way to improve mood. Specifically, chromium can help reduce carbohydrate cravings in those dealing with depression.
Although some forms of exercise enhance the absorption of chromium, other types of endurance exercises lead to chromium excretion in the urine. Thus, a constant source of chromium in our diet will ensure we have adequate amounts in our bodies. Food sources of chromium include chicken, beef, and whole grain breads. However, this may not always be the most effective way to meet our body's chromium needs.
Protect the precious building blocks of your DNA, nucleic acids, with chromium. Strengthen your DNA and RNA to ensure proper cell division, communication, function, and reproduction.
Many report signs of dizziness, frequent urination, or frequent feelings of hunger after just six hours without food. Do you experience constant cravings for sweets? Reduce these symptoms with an adequate supply of Chromium Picolinate.
Chromium at its Peak
Enhance the efficacy of this chromium supplement. Increase your Vitamin C intake to enhance Chromium Picolinate absorption. Also, avoid the following medications: antacids, corticosteroids, and non-steroidal anti-inflammatory drugs (NSAIDs like ibuprofen and aspirin). Finally, make this chromium supplement part of a healthy lifestyle that includes an effective exercise regimen and a balanced, healthy diet.
Learn more about the great
benefits of chromium
and why you can use this chromium supplement to improve your health in our EnergyFirst library of nutrition information.