Clean Organic Plant Protein
Raising the bar in how Plant Protein should be!
Vegan, Organic Plant Based Protein Blend is perfect for those who are looking for high quality sources of non-allergen based protein. Ultra clean sources of protein include a specialized blend of high quality proteins: Organic pea protein, Organic chia protein, Organic Cranberry protein & Organic Pumpkin seed.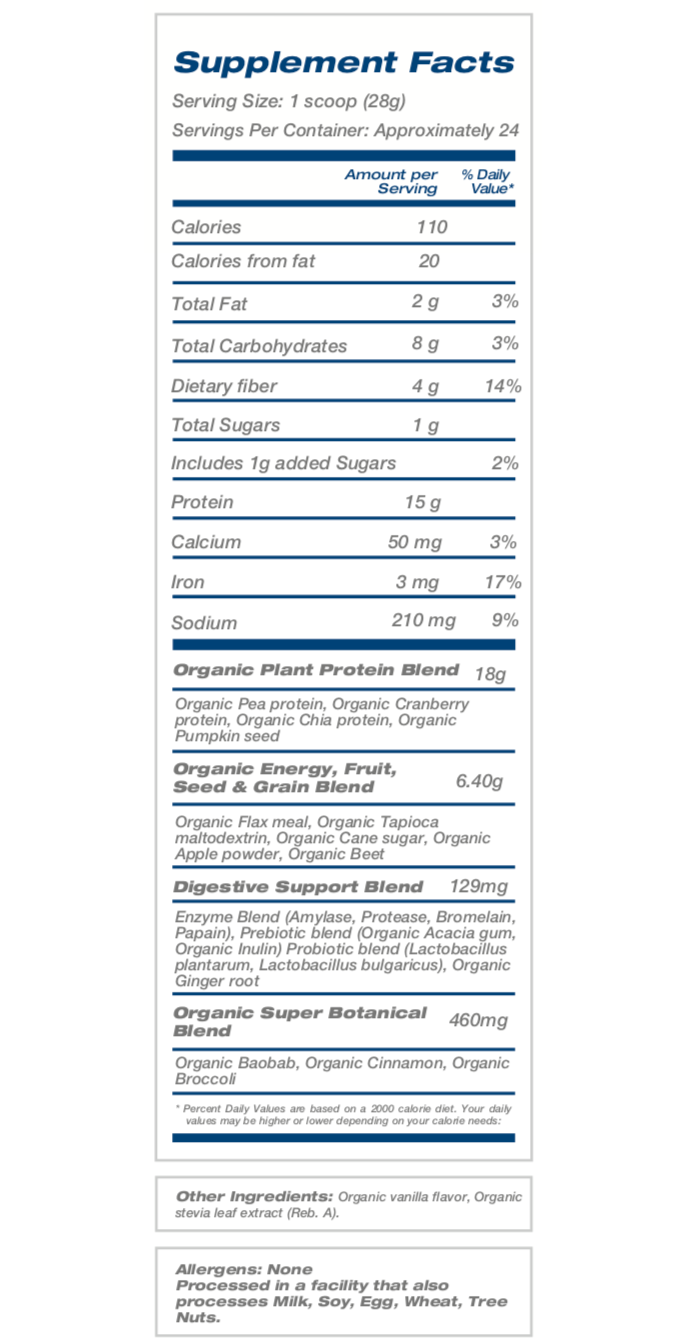 WHY A BLEND?
Different proteins have different absorption rates in the body. This is important as research has shown blends of proteins provide greater muscle building stimulus than a single source. The reason for this is due to the varying absorption rates of proteins based on the composition of the protein and overall amino acid profile. Combining proteins creates a more favorable amino acid supply (greater utilization) in the body for greater periods. A blend is best.
Will it stimulate muscle recovery similar to dairy?
A question which has been asked is if non-animal based proteins can provide the same muscle recovery benefits as dairy proteins (whey, casein). The answer is yes! Based on research from the journal of International Society of Sports Nutrition, vegetable pea proteins can be used as an alternative to whey based products since both whey and pea produces similar increases in muscle thickness & strength. Similar to whey, pea has a favorable amount of branched chained amino acids- a key regulator in muscle recovery, growth and optimal performance. This creates a perfect product for those wishing to avoid dairy.
Fruit & Seed Blend
Organic flax meal is added for overall health. Not only is this seed high in omega 3 fatty acids & fiber, but it is also high in a lesser known health superstar known as lignans. Lignans are antioxidant powerhouses- these compounds have the highest antioxidant (ORAC) value than any other fruit or vegetable. Useful for: reduced levels of LDL (bad) cholesterol, cardiovascular disease, colon health, diabetes and others.
Organic apple & beet powder couple with the organic protein blend and high antioxidant flax to further support energy and wellbeing.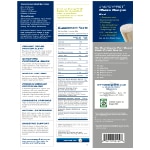 Digestion Support- The missing link?
You are not what you eat, you are what you absorb! A missing link in supplemental nutrition is digestion and assimilation. In order to maximize the effectiveness of all ingredients in Organic Plant Protein, a high end enzyme blend has been added to assist in the breakdown of proteins & starches. In addition, both prebiotic fiber and probiotics have been added to assist in optimal digestion of all nutrients and phytonutrients in the blend. Lastly, organic ginger root has been included due to its large affinity to digestive health. A large amount of research is now confirming much of our immunity is in our gut. Maintain gut health from all angles with digestive enzymes, prebiotics, probiotics and ginger root.
Baobab- The Super Botanical
Baobab is a hot botanical with an impressive resume. Baobab is an African prebiotic superfood rich in antioxidants- including vitamin C, and essential minerals such as calcium and potassium. This superfood is known to come from the "tree of life" since all parts of the Baobab tree can be used for health purposes. Baobab Fruit has 10x the antioxidant level of oranges, 2x more calcium than milk, 4x more potassium than a banana and more magnesium than spinach. It also contains zinc, essential fatty acids & B Vitamins
Added to this botanical blend include organic cinnamon & organic broccoli for overall antioxidant support.