Lutein is a naturally occuring carotenoid found primarily in fruits and vegitables. When ingested by humans, it concentrates in a section of the eye called the macula, which is the small area in the center of the retina.
Protect Your Vision's Health. Each bottle contains 60 capsules.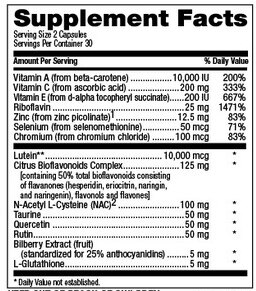 The main ingredient of this eye health supplement is lutein. Lutein is a phytochemical, or plant chemical, known as a carotenoid. What are phytochemicals? These are natural chemicals found in plants that protect plants from damage or diseases caused by ultraviolet light, bacteria, or other microorganisms. Lutein acts as a powerful antioxidant and has natural anti-inflammatory activity.
Because the human body cannot manufacture it, lutein must be obtained from the diet. Food sources of lutein include spinach, broccoli, and kale. Because it is a fat-soluble pigment, it is absorbed best when eaten with a meal high in fat. Also, in order to fully benefit from these vegetable sources, they must be eaten raw. EnergyFirst's Lutein Plus Eye Complex is an easy way to get nutrients you need to protect your vision—all through one simple capsule.
The "Eye Vitamin"
Recent clinical studies demonstrate that lutein has both long and short-term benefits for vision protection. In fact, lutein is called the "macular pigment" or "eye vitamin" because it is found in the eye. This antioxidant can protect the eyes and prevent eye diseases such as age-related macular degeneration or cataracts. After lutein is absorbed in the bloodstream, this antioxidant targets the eyes. Lutein is delivered to the most central region of the human retina, the macula. Day by day our eyes are constantly exposed to light radiation and toxins that speed up degeneration of the eye that causes vision loss. Protect your precious eyes and vision from deteriorating early in life with lutein.
As an antioxidant, lutein eliminates free radicals that lead to eye diseases. Lutein also strengthens the lens and cells of the retina. It is a non-invasive and natural way to strengthen and protect your eyes in order to prevent vision loss.
"Natural Sunglasses" for your Eyes
To have a better understanding of how lutein works, picture a common light filter that blocks out damaging rays—your sunglasses. Lutein protects eye from sunlight damage by only allowing your retinal nerves to receive the light radiation necessary to see the world around you while filtering out harmful sunlight radiation.
Speaking of sunlight damage, recent human studies have shown that lutein and zeaxanthin, another antioxidant found in this vision health supplement, are antioxidants found in skin. A growing body of research is now being conducted on the effects lutein and zeaxanthin have on skin damage from sunlight.
Numerous scientific studies speak volumes about lutein's role in preventing vision loss. One study compared the vision of those who had a high lutein intake with a group of subjects that had low lutein intake. In this study the group with low lutein intake was found to have a higher risk of cataracts later in life. The top 20% of the high-lutein intake group had half the risk of developing cataracts than those who were in the bottom 20%. It is important to know that cataracts are the leading cause of vision loss in the aging population. Thankfully, lutein will protect long-term visual health.
As a potent antioxidant, lutein also has the ability to prevent damage to eyes from environmental toxins. Lutein and zeaxanthin are also associated with a lower risk of cardiovascular disease and cancers.
Although lutein is an eye supplement that is generally safe to take for the majority of people, it is advisable to consult with your doctor before taking it if you are pregnant or breastfeeding.