Success Stories Of The Month
You can add two more to your satisfied customer list; my wife and me. Recently, we have both lost over 25 pounds and are now at about the weight we want to maintain. I started this program to fix my cholesterol and triglycerides, which had risen to 203 and 153 respectively. After three months of being on this program, I won a weight contest at work by losing 30 pounds. The weight loss was actually a side affect of what I really wanted to achieve. Right after my contest, I took a physical and my cholesterol and triglycerides dropped to 139 and 59 respectively. Mission accomplished in only 3 months, after years and years of eating poorly.

The program in sensible and can be a life habit for eating and exercising. That is what separates it from Atkins, which doesn't make sense to me. Why stay away from fruits and vegetables, foods that are natural and created for our consumption? Not for us for sure.
Best regards,
Jerry C.

I attended the EnergyFirst seminar at Gibbs Die Casting in Henderson, Kentucky on January 17, 2004. I have totally changed my way of eating! I feel so much better and have more stable moods. I have an under active thyroid so I have to go once a year and have blood work done. I went a couple of weeks ago and I was amazed at the results! My cholesterol went from 187 to 161 and my triglycerides went from 218 to 84! My doctor wanted to know what I had done to get such results! I have only lost 6 pounds but my thyroid medication is too low, so we are changing the dose. I will have more blood work done in about 6 weeks.
- Alycia Tomlingson
I have been on EnergyFirst products for a week now and I have more energy than my staff can take.... I am also starting to see my ab muscles for the fist time in 16 years!
Tanya Y.

I attended the EnergyFirst speaking lecture at the New Orleans dental conference in September 2003. I was excited to hear new information since I had not studied nutrition since the late 80's/early 90's in collage and dental school. Back then they were teaching a high carbohydrate, low protein (often high glycemic), low fat diet which, being a good student, I followed diligently for years. I was always hungry and exercising all the time to lose or maintain my weight. I could never understand how my friends who ate the "wrong things" were so lean. The funny thing is that I preached to them about what I had learned.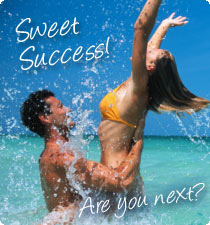 I remember the speaker talking about how the EnergyFirst had changed her life to the extent that she left law to learn more about nutrition and to become a missionary. I purchased the tapes of Lisa's lecture and Joe Dillon's tapes from the website. I listened to them 2 or 3 times to digest them completely. I helped my wife to become educated (this is important) and loaded 4 bags of unacceptable trans fats, processed carbohydrates and roasted denatured stuff and gave it to my brother in law (should have just trashed them). I was in good shape to begin with at about 15% body fat and 174 pounds. I followed the EnergyFirst plan and immediately (2 days) lost the bloat from over carbing (~5 pounds) and then proceeded to lose 11 more to reach a stable 158 pounds at about 7% body fat.

I can go on and on... My wife's mood changed for the better and she lost 15 pounds. My nanny in 9 months lost 100 pounds and she doesn't even exercise or know the details of the EnergyFirst plan. All she did was eat and live in our home! My dad listened to the tapes and lost 30 pounds with little exercise at 70 years old. My mother lost 42 pounds. My brother lost 17 pounds.

I am so happy I attended that lecture. It has changed my life, as it did Lisa's, and I have been able to help so many others important to me. I am sad to see people try to follow all these fad diets when the truth is so easy. The hardest part is getting started. I have seen others I have referred who continue to be sick and tired because they fail to get it and continue the sugar/caffeine roller coaster. Don't continue the madness; change your life now with EnergyFirst. Nutrition is the single most important health decision you will ever make concerning you and your family. Your quality of life and longevity depend on it.

Lisa, thank you for the opportunity to share with others what you have done for me and the others I have been able to help.

Sincerely,
R. Brett Rabel, DDS, FAGD
Just wanted to drop a line to say hello and say a big "THANK YOU" for helping me turn my eating habits around in healthy direction. I have lost a total of 82 pounds since you came to speak with our company in January 2004. And I have done it with the help of your book and what you taught me regarding how to eat healthier and exercising correctly.

- Shona Mac, Henderson, KY
I attended the Dental Convention in Seattle in July this year. I came up to ask you if I was exercising too much. I did 1/2 hour on treadmill and 1/2 hr on eliptical trainer. You said yes this was too much. The following week I quit my Bally Membership and started the walking exercise you told us to do. The first week I did 4 days and the following week 3 days and since then I have been able to do it 5-7 days a week. It is so nice because it is such a doable regiment. I just walk outside my door. Sometimes if it is late I walk around my block which is 1/3 of a mile all lit up but if I do it during the day I have another route with a rather large hill that I walk backwards on. I feel 100% better and it is so easy for me to do. I don't have to drive any where and I am thoroughly enjoying my walk. Doing the arm exercises with my weights make my arms feel like they aren't flabby anymore and I find that I am not eating nearly as much. I have only lost 5 lbs but my clothes feel so much better and I know that as time goes on it will get better. I just want to thank you for your advice. It has truly made a difference and I am so very excited that I can do something that makes such a tremendous difference in my physical and mental and spiritual well being. I am truly blessed and so anxious to continue on this great discovery that I have made because of you. Thank you so much!
- Melinda Brown
"Several months ago, a patient of mine handed me a set of CD's with a live 3-hour healthy lifestyle seminar given by Lisa Anne Leslie at a large dental convention. The information was based on sound science and very intuitive- it made sense to me. I started following her tenets of a healthy lifestyle, and some three months later I am 20 pounds lighter, 5% lower in body fat, and my cholesterol and triglycerides have dropped to very health ranges. My wife, who has lupus, also listened to the CD's and also implemented Lisa's healthy lifestyle, and her health has taken a dramatic turn for the better ever since. I ordered her book and more CD's and I give them out to all my patients and the reports of amazing changes in their health and energy started rolling in. Earlier this year, I invited Lisa to speak for three hours to a group of 45 of my patients, staff, family, and friends. They were in awe of Lisa and her program. The results have been astounding. I have people call me every day with reports of improved health, energy, and weight loss. Thank you, Lisa, for helping change my life and those I care about most."
- Chris

I am Steve. I wanted to introduce myself and thank you for your program. I have been on it about 7 months and have lost about 25 pounds (182 to 157) and more importantly about 8% body fat. I am now at 12.3%. Just as important my total cholesterol, LDL, and triglecerides decreased by 25% and my HDL increased by 25%. Total Cholesterol/HDL now at 3.2 vs 4.98. Thank you for changing my life.
- Steve
I first heard of Energy First products a few years ago. For some reason, I delayed using their products. The sad part is, I also delayed getting results. I began using EnergyFirst Whey Protein shakes, at the end of March 2003 after hearing Lisa Anne Leslie speak at the Excellence in Dentistry conference. By August 15th, I have lost 30 lbs. Everyone that sees me wants to know what "diet" I am on. I tell them, "I am not on a diet. I have changed my eating habits." I cannot thank Lisa enough for her concern, support, and her informative tapes. Her knowledge, coupled with EnergyFirst's products, have been absolutely life changing for me.
- Penny Reed, co-founder Dental Genius™
My name is Chrissy Jensen. I am Jeanne and Bill Locante's daughter in Colorado! I just wanted to tell you how things are going with me since I started the program a few months ago. As long as I can remember I have had dizzy spells, flashing dots in front of my eyes, lightheadedness, and a lack of energy. I am only 25. A year ago I underwent a series of tests to try to figure out what was wrong with me. I had a CAT scan, MRI, an external heart monitor test, and a 6 hour GTT. I found out after having my blood drawn over 10 times that they could not find the results of my GTT and they asked me to come back and do it again. It had taken most of a week to recuperate from the glucose test the first time, so I declined doing it again.

This past summer, while pregnant with our third child, my Mom introduced me to the "Healthy Lifestyle" eating plan. I thought she was crazy and that there was no way I could stick to that strict of a diet -- especially while pregnant and craving chocolate and marshmallows (I am so embarrassed to admit to eating that stuff now!). I had my one hour GTT at about 7 months into the pregnancy and it came back that I was hypoglycemic. After talking to my Mom again, and her scaring me to death about the aspect of possibly contracting adult onset diabetes later in life, I decided to give it a try. I didn't really get serious about the plan until just after my daughter was born, September 19th of this year.

Since the day I went into the hospital to have her, I have lost just over 45 pounds! That's only been 11 weeks! At my 4 week check-up I was in a size 16. Today, 7 weeks later, I was able to fit into my size 10 jeans! I just can't tell you how happy that made me! My goal is to be into my size 6's by summer and I think I just might be able to do it! I have not worn them since I got married nearly 7 years ago!

Most importantly, I am not having the problems with dizziness, spots, and sleepiness that I had before! I feel like I have the energy to keep up with these three kids! Even though I am still up most of the night with our 11 week old, I feel better than I ever have!

Sorry to take up so much of your time, but I wanted to share how happy I am that this is going so well! I will let you know when I am in those smaller sizes!

Thanks again!
- Chrissy Jensen
PS - I love the new Fudge Chocolate Protein powder!
Alycia Tomlingson
* Disclaimer: results may vary