Coenzyme Q10 is an antioxidant similar to vitamin E. It also plays a crucial role in the generation of cellular energy, is a significant immunologic stimulant, increases circulation, has anti-aging effects and is beneficial for the cardiovascular system.
For a Healthy Heart, Improved Cardiovascular Health & Immunity. Each Bottle = 60 Softgels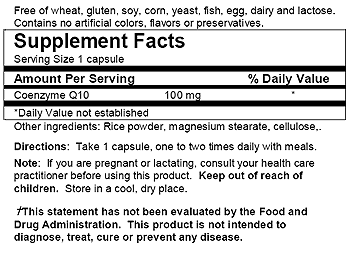 Are you getting enough Coenzyme Q10? Food sources of Coenzyme Q10 include whole grains, certain vegetables, organ meats, and oily fish. Many people, however, have low levels of coenzyme Q10. Coenzyme Q10 supplements can especially benefit those who are dealing with specific health problems and those who regularly take medication. Low levels of Coenzyme Q10 have also been found in people with coronary heart disease, congestive heart failure, high blood pressure, cancer, diabetes, Parkinson's disease, AIDS, and weakening muscular diseases.
What exactly is CoQ10?
Coenzyme Q10 is an intracellular antioxidant –it is found inside cells throughout the body, including the liver, kidney, heart, and pancreas. This antioxidant works to protect your cell membranes and mitochondria from oxidative damage.
Sluggish Metabolism?
Aging brings an inevitable decline in metabolism. A slow metabolism can result from lack of exercise and inadequate sleep. Get your metabolism back on track with Coenzyme Q10, which is directly involved in energy production. This is the main function of CoQ10 and it does a great job. In fact, this function of CoQ10 affects the entire body.
Coenzyme Q10 can boost your digestive system by acting as a natural catalyst to break down and metabolize the nutrients you eat. This, in turn, helps your body achieve a stable, balanced internal environment known as homeostasis.
As your body processes the nutrients it receives, it needs to convert them to energy. Keep your energy levels stable with Coenzyme Q10, which increases the amount of energy produced in the form of ATP. ATP is our body's currency for energy. ATP converts glucose, proteins, and fats to energy in order to feed our cells the energy they need.
Where does Coenzyme Q10 come in?
This process of energy conversion that ATP does is slow if it does not have the help of a catalyst like Coenzyme Q10. Also, ATP is not stored in our body in large amounts. It needs to be produced constantly. Thus, Coenzyme Q10 can enhance energy production on a daily basis.
Coenzyme Q10 improves the health of key tissues and organs. The cardiovascular system will experience short and long-term benefits as Coenzyme Q10 helps maintain normal blood pressure and cholesterol levels. Prevent hypertension and chest pain (angina) with this antioxidant supplement. In fact, Coenzyme Q10 has been shown to lower the risk of heart attacks.
Coenzyme Q10 for Fertility
If you are in the process of family planning, enhance your reproductive health with Coenzyme Q10. Evidence shows this antioxidant can improve fertility and quality in men. Plus, women can improve chances of fertility at an older age. Coenzyme Q10 is an antioxidant that can slow aging of eggs and offers hope of pregnancy for older couples.
Our immune systems can always use a boost. Coenzyme Q10 strengthens the immune system and eliminates toxic chemicals that damage cells. These immune system benefits are vital for HIV and AIDS patients. This can help lower risk of periodontal or gum disease, obesity, and a weakened musculoskeletal system. Additional health benefits of coenzyme Q10 include fewer migraine headaches, protection against damaging effects of certain cancer treatment, and a lowering risk of Alzheimer's, Parkinson's, and cardiomyopathy.
This Coenzyme Q10 supplement is a vegetarian supplement free of toxins. Please consult with your doctor before taking this product if you are dealing with a heart condition or disease. This product works effectively when taken on a daily basis and is paired with a healthy diet and regular exercise program.