Do you often find yourself in pain while walking, jogging, or doing exercises that put a strain on your joints? If so, you should consider supplementing your diet with glucosamine and chondroitin which are components of normal cartilage, the tissue that acts as a cushion between bones in a joint.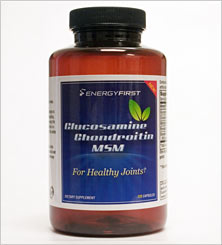 Glucosamine and chondroitin are recognized as the leading supplements for maintenance of healthy joint function with studies showing that the body can absorb the supplements at a rate of 90% to 98%.

Research also indicates that the combination of glucosamine and chondroitin was more effective at slowing the progression of cartilage breakdown than either supplement alone. EnergyFirst has added MSM (methylsulfonylmethane which is a natural sulfur-containing compound) to its supplement - Glucosamine, Chondroitin & MSM Complex - because it acts as a natural pain reliever and may inhibit the formation of scar tissue around joints, supporting healthy inflammatory response. Although MSM occurs naturally in foods, even moderate food processing destroys most of it. Plants, animals and humans need sulfur for a wide variety of biological processes. MSM is a source of biological sulfur, which is a major component in many of the body's proteins, tissues, hormones and enzymes.

Glucosamine is a natural substance that is found in the covering of shellfish, and may help to relieve the stiffness, pain and swelling associated with joint disorders. It does not occur in foods that are readily available. The best form is glucosamine sulfate, which is more easily absorbed by the body. Glucosamine also seems to work better than pain relieving medications over long periods of time because medications tend to wear off quickly once dosages are stopped, but glucosamine continues to work for a period of time, even if the supplements have been discontinued.

Chondroitin is used in the body as a building block to form connective tissues such as cartilage and is also present in the walls of blood vessels. Like glucosamine, chondroitin is a natural substance that can be found in shark and bovine cartilage but it can also be created in a lab. Chondroitin sulfate is a combination of chondroitin and mineral salt that helps keep cartilage fluid and elastic. Researchers believe that chondroitin sulfate works in two different ways: it provides the raw material needed to repair cartilage and it may block enzyme activity that breaks down cartilage. Recent studies indicate that chondroitin may be as effective at relief of joint pain as aspirin and other non-steroidal medications but without the gastrointestinal problems.

If you decide to take supplements, choose products sold by well-established companies that stand behind their products. Make sure you read the product labels carefully to make sure the ingredient lists make sense to you. If you have trouble, ask your pharmacist for help, and be sure to consult your doctor. You'll be on your way to moving more freely in no time!