You exercise, you eat right but sometimes you just need that little something extra to help you lose fat and get leaner. That's where chromium comes in. An essential trace element, chromium is important in the burning of carbohydrates and fats in the body, and helps insulin do its work of making blood sugar (glucose, our basic fuel) available to cells.
Our bodies only contain a few milligrams of chromium, but that small amount plays an important role in enhancing insulin's effectiveness, regulating blood sugar levels and activating various enzymes for energy production, all of which can help support building lean muscle and fat loss.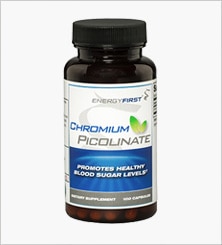 Where can you find chromium? Chromium can be found in food sources such as whole grain breads and cereals, lean meats, cheeses and herbs such as pepper and thyme. But the chromium found in food is not always easily absorbed by our bodies. The typical Western diet barely contains an adequate amount of chromium -- so chromium supplements are quite popular. It's the second most popular mineral supplement in the United States.

The U.S. National Academy of Sciences recommends 50-200 micrograms of chromium a day, but most adults ingest less than half that amount. With recent studies also suggesting that chromium may play a role in supporting a healthy cholesterol balance and healthy vision in addition to its fat loss benefits, it's more important than ever that you get the chromium your body needs.

While chromium supplements come in several forms including chromium picolinate, chromium nicontinate, chromium chloride and high chromium yeast, the most popular is chromium picolinate. This form of the mineral is more easily absorbed by the body and taken in the recommended dose of 200 mcg, will provide you with all the mineral's fat-burning health benefits. EnergyFirst offers Chromium Picolinate in 100 or 250 vegetarian capsules that are 200 mcg each. The capsules are free of all common allergens and a great way to get your body on the road to ultimate fat-burning.