Depression and anxiety is not something you can just "snap out of." These conditions are caused by an imbalance of brain chemicals, along with other factors, and should be treated by a doctor. If you've been diagnosed with depression, you may wonder why it had to happen to you. The fact is that anyone can get depression and anxiety, and there are natural alternatives available to help relieve your symptoms.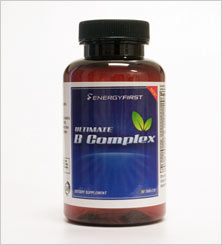 For years, doctors have prescribed antidepressants to treat depression. By rebalancing the neurotransmitters in the brain, antidepressants impact mood at the biochemical level and allow the sufferer to achieve emotional equilibrium. However, some people experience negative side effects. New studies have shown that B vitamins and St. John's Wort can be helpful in relieving symptoms of depression and anxiety without negative side effects.

B vitamins are especially important as they contribute to your overall health. Research shows that it's particularly important for elderly people to get adequate intake of the B vitamins due to the fact that absorption of these nutrients decreases with age. The eight major vitamins that belong to this group share many characteristics and are often found in the same foods. The vitamins that are considered to be part of this group are thiamine (B1), riboflavin (B2), niacin (B3), pantothenic acid (B5), pyridoxine (B6), folic acid (B9), cyanocobalamin (B12) and biotin. The recommended daily allowance for nearly all of the vitamins in this group ranges from 1 - 2 mg.
The reasons that doctors and nutritionists recommend these vitamins be taken daily are clear. B vitamins are essential for the breakdown of carbohydrates into glucose, providing energy for the body. They also contribute to the efficient functioning of the nervous system by breaking down fats and proteins, and support muscle tone in the digestive tract, maintaining healthy skin, hair and eyes, as well as promote liver health.
So, how do you get B vitamins? Eat foods naturally containing these beneficial organic materials, including whole-grain cereals, rice, nuts, milk, eggs, fish, fruits, leafy green vegetables and meats. A better way to ensure that you are taking in the correct daily amount of B vitamins is to use a high potency B-complex formula. These contain added minerals such as calcium, magnesium, phosphorus and chromium that provide additional support to combat the effects of stress, fatigue and anxiety.

New research shows the herbal supplement St. John's Wort to be as effective as one of the most popular prescription antidepressants, Paxil, for treating both moderate and severe depression, according to the British Medical Journal. St. John's Wort is one of the most thoroughly researched medicinal herbs. The plant has been found to be safe with few side effects. In fact, in more than 2,000 years of use, there has never been a recorded human death related to this plant-as opposed to aspirin, which kills about 500 people a year in overdose.

St. John's Wort supports a healthy mood, restful sleeping habits and a healthy immune system. Typical daily dosage ranges from 300-900 mgs. Used topically it can also aid in healing burns and wounds, making it a great item for the first-aid kit.

To be your healthiest and happiest, remember to follow your mother's advice and take your vitamins and St. John's Wort! Without these supplements, your body will be unable to function at its peak performance. By doing this and making wise food choices, you'll experience the long term pleasure of having a body that is strong and healthy for years to come.