Do you experience pain in your knees, hips, feet, or other joints? Do people say they can hear you coming down the stairs because of the cracking noises? If you have pain in your joints or have been diagnosed with arthritis, you may be hesitant about treating it with drugs.
Your caution is well-founded. There's no denying that pain killing drugs work well, and they do have a role to play, but long-term use of any type of drug can have serious side effects. There is no free lunch, and any benefit you get from a drug has some kind of side effect. You may not feel the side effect immediately, but it will manifest itself eventually.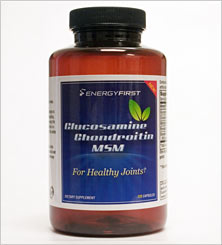 Fortunately, you have alternatives to drugs. Many people who suffer from aching knees, hips and other joints are now finding a natural alternative via glucosamine and chrondroitin.

A major study conducted by the National Institute of Health (NIH) concluded that glucosamine inhibits inflammation and stimulates cartilage cell growth and chondroitin provides cartilage with strength and resilience. Both of these are classified as dietary supplements.
In particular, the GAIT study found that: "Combination glucosamine and chondroitin sulfate is effective in treating moderate to severe knee pain due to osteoarthritis."
So what exactly do these supplements do for you?
Glucosamine:
May support healthy inflammation response
May help alleviate progressive joint damage
Have been shown to speed healing of joint sprains and muscle strains
May promote healthy healing and reduce scarring from wounds or surgery
May be useful in the treatment of kidney stones (more research is needed to substantiate any claims)
Chrondroitin sulfate:
Keeps cartilage fluid and elastic. Researchers believe that it provides the building blocks you need repair cartilage, and it may block enzymes that breaks down cartilage.
May equal aspirin and other non-steroidal medications at providing relief of joint pain, without the gastrointestinal problems.
MSM is a well regarded superfood that helps to reduce inflammation and stimulate the recovery of joint tissue.

Gerry Morton, CEO of EnergyFirst, suggests that you treat joint pain or arthritis naturally by:
Taking EnergyFirst Glucosamine Chrondroitin MSM daily, since they are thought to assist in pain relief and the possible building of new cartilage

Exercising—walking, swimming, cycling, low-impact aerobic exercise, stretching and range-of-motion exercises may reduce joint pain and stiffness. If you need help getting started, consider consulting a personal fitness trainer or physical therapist.

Weight reduction—a recent NIH study showed that overweight women experienced significantly less osteoarthritis development in their knees with the loss of just eleven pounds of bodyweight.

Get eight to ten hours of sleep per night. Sleep is when the body heals and rebuilds, and that process is important for the action of glucosamine and chrondroitin.
As always, should you have questions about your specific condition, consult your doctor or health care provider about using glucosamine and chrondroitin to relieve the joint pain and arthritis symptoms.