Are you eating a variety of colors in your diet? Each color fruit and vegetable features different power-packed nutrients called "phytochemicals" They make up the color and flavor of plants and help keep us healthy by warding off serious illnesses like cancer and heart disease.
In January, we featured the delicious and nutritious tomato for its fabulous red. This month, we're giving a shout out to the sweet pineapple for its vibrant, energy-provoking yellow hue.
Yellow/Orange Fruits and Veggies
IPineapple falls into the yellow/orange family of colors.

One yellow/orange group includes carrots, pumpkins, mangos, apricots, and sweet potatoes and typically contains alpha carotene and beta-carotene. Alpha carotene protects against cancer while beta-carotene is converted into vitamin A, protects skin against free radicals and helps vision.

The other yellow/orange group includes oranges, papayas, peaches and the fabulous pineapple. It's known for its beta cryptothanxin, a phytochemical that helps cell communication and heart health.
Welcome the Pineapple -- a Gift to Your Health
In addition to beta cryptothanxin, the pineapple contains bromelain, vitamin C, vitamin B1, manganese, vitamin B6, copper and fiber.
Bromelain, a natural enzyme, helps with inflammation, blood coagulation, tumors and digestion, particularly breaking down protein.
Manganese, a power-enhancing trace mineral, helps enzymes produce energy and work as antioxidants. (It even neutralizes free radicals in the mitochondria, the powerhouse of the cell.) One cup of pineapple gives you 120% of your daily manganese!
Vitamin C, the body's main water-soluble antioxidant, helps keep artery plaque, diabetic heart disease, asthma, colon cancer, colds, flu and ear infections at bay.
Vitamin B1 helps supply oxygen to the blood and makes carb metabolism more efficient, making it a sweet weight loss helper.
Everything You Wanted To Know About the Pineapple
Pineapples originally came from Brazil and Paraguay and were discovered by Europeans in 1493.
Europeans tried to grow pineapple at home then finally brought it to colonies in Africa, Asia and the South Pacific in the 1500s. Hawaii joined them in the 1800s.
Pineapples symbolize hospitality and abundance, thanks to American colonial society. It started back in the day, when fruit was difficult and expensive to come by and inviting guests to the home was the main form of entertainment and communication. To show personality, graciousness, wealth and status, the hostess created a food display. If she had a pineapple on top, she had the star fruit. Pineapples were so important that some clever colonials rented them out for dinner displays! The hostess hid the fact that the pineapple was rented, and later, it was sold to a wealthier customer to eat!
Pineapple plants grow from the tops of other pineapples. Grow your own by cutting off the leafy crown, letting it sit for 2 days and planting it in soil with good drainage. Direct sunlight and daily water needed.
It takes about 1 1/2 - 2 years for a pineapple to appear. Each plant usually only grows two pineapples total.
Buying pineapple is mostly about smelling the stem side. It should be sweet not "green" or fermented. The color should be golden, and it should not be soft, bruised or have darkened "eyes."
The riper the pineapple, the more antioxidants. This happens as chlorophyll breaks down into polar NCCs, which are strong antioxidants. It's like what happens when leaves turn colors in the fall.
Pineapple can ripen and get juicier for a few days by placing it on the leafy side. Sugar flows to the top. Watch it closely so it doesn't ferment.
Keep cut pineapple refrigerated and sealed so it stays juicy.
Vitamin C loses its potency soon after the fruit is cut. Even in the fridge for a day, it will lose 20%.
To cut pineapple, start with the stem and crown. (Or keep the crown as a cutting handle.) Next, put it on end and cut off the outside, top to bottom. Last, cut a v-shape groove on the diagonal line of the "eyes" and remove them. Cut the rest into discs or cubes.
Add Pineapple To Your Breakfast Protein Shake
Enjoy your morning protein shake with fresh pineapple flavor to boost your metabolism and refresh your taste buds! Here are a couple fun recipes to try.
Tropical Dream Protein Shake
Blend to desired smoothness: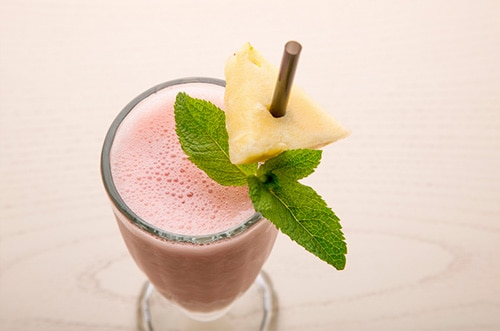 1 to 2 scoops of ProEnergy Chocolate Whey Protein Powder
1- 1 1/2 cups of pure water or skim milk
Add: 1/2-1 cup of frozen pineapple
Add ice for extra thickness
Optional: 1 scoop Greenergy
Optional: 1/4 cup of OmegaEnergy Mix or 1 tbsp of OmegaEnergy Oil
Pineapple Ginger Protein Shake*
Blend the following to desired smoothness: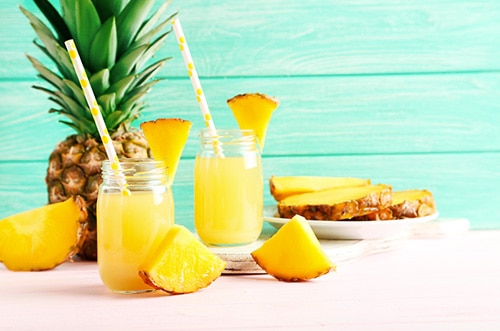 1 1/2 cups of water
2 -3 scoops Vanilla Whey Protein Powder
1/2-1 cup fresh pineapple
1/2 T fresh lemon juice
1 1/2 T fresh grated ginger
A few fresh mint sprigs (optional)
1/4 cup chopped macadamia or mixed nuts (optional)
Add ice for extra thickness
*Inspired by Pineapple Ginger Sorbet on MAONA.NET, which was inspired by a "Sam Choy creation."