Clinical depression is perhaps the most misunderstood of all ailments, not just in definition, but in treatment. The confusion stems from the name—being depressed is not the same as having depression. And treatment is too often not sought due to popular myth that all the depressed person needs to do is be told to "pull yourself together."
Those who suffer from depression describe an overwhelmingly oppressive feeling, as if they are living under a black cloud. Symptoms include:
Constant sad mood

Loss of interest or pleasure in activities that you normally enjoy

Significant change in appetite or weight (up or down)

Oversleeping or sleep problems

Agitation or unusual slowness

Loss of energy

Feelings of worthlessness or guilt

Difficulty concentrating, thinking, or making decisions

Recurrent thoughts of death or suicide
Unfortunately, encouragement and support from friends, family, and employers do not cure clinical depression, no matter how well-meaning the source. The good news is that clinical depression is a treatable illness and can be cured. One of the best natural remedies for treating depression is the St. John's Wort, a medicinal herb that has been used for centuries to treat various maladies, including depression.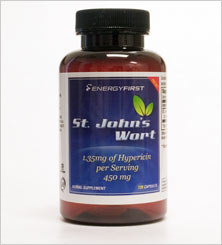 According to the National Center for Complementary and Alternative Medicine (NCCAM), there is scientific evidence that St. John's Wort can be useful for treating mild to moderate depression. However, current research suggests that St. John's Wort offers no benefits in treating major depression of moderate severity. Major depression is defined as loss of interest or pleasure in activities that persists for at least two full weeks. Additionally, to meet the criterion for major depression a person must have at least four of the other symptoms listed above. Major depression can be mild, moderate, or severe. Untreated, it can last six months or more. St. John's Wort is an attractive alternative to anti-depressant drugs commonly used to treat depression, but which do not always provide relief. Often patients report unpleasant side effects from anti-depressant drugs such as dry mouth, nausea, headache, effects on sexual function or reduced sleep. Reduced cost is another benefit of using St. John's wort for depression, particularly with the rising costs of prescription drugs. Of course, before using St. John's Wort to treat mild to moderate depression, you should check with your doctor or pharmacist. Research from the National Institutes of Health (NIH) shows that St. John's Wort can interact with prescription mediations that control HIV infection, fight cancer, and reduce the risks of organ transplants. Future uses of St. John's Wort that the NCCAM plans to study include:
Safety and effectiveness for the treatment of minor depression
Safety for the treatment of social phobia
Effectiveness for the treatment of obsessive compulsive disorder
Effects of on the success of birth control pills
Possible adverse interactions with narcotic pain medications
Gerry Morton, CEO of EnergyFirst, suggests the following other ways that you can treat depression naturally:
Get outside in the sun for at least a half-hour a day. Wear sunscreen if you need to, but do get outside in sunlight. This treatment is also useful for Seasonal Affective Disorder, which is a variation of depression.
Massage therapy can work well for alleviating symptoms of depression by reducing pain.
Aerobic exercise—at least thirty minutes per day, five or six days per week—has been shown to reduce depression significantly. This effect is thought to be due to the release of endorphins from the brain.
Color therapy is used by some alternative practitioners, since colors are powerful brain cues for mood.
Chiropractic to put the neck and back in proper alignment can relieve pain which may be an underlying factor in some people's depression.
Gerry Morton, CEO of EnergyFirst, is an experienced athlete who has competed in 30+ marathons and 4 Ironman triathlons. Gerry is an excellent source of information on nutrition, supplementation and exercise. Since 1997, he has been educating and motivating others on how to attain peak performance.