One of the great things you can do for your health and energy levels is to eat in season. Eating in season means eating locally-grown, fresh, organic, raw fruits and vegetables. Here's what's important to know.
Just-picked for full nutritional benefits. As fruits and veggies come off the tree, plant or vine, they are still full of their essential vitamins and minerals, including antioxidants. The more time that passes after being picked, the more these important nutrients and benefits lose their value. After just a few days, the nutritional value goes down 40-60%.
Raw produce has live digestive enzymes. Eating raw also ensures that you don't destroy important digestive enzymes and nutrients. At 113 degrees Fahrenheit (45 Celsius), digestive enzymes start to be destroyed. By 122 degrees Fahrenheit (50 Celsius), they are completely gone. Digestive enzymes are necessary for digestion and absorption of food and nutrients.
Small local farms do it right. Because they rotate crops more often, small farmers grow produce in soil that's replenished with nutrients that then show up in the fruits and vegetables. Also, small farms tend to pick the produce the morning it hits the store or market place.
Organic is the way to go. Just because you shop at the farmer's market doesn't mean the produce is organic. But the organic farmers will let you know, usually with big signs that say "organic." Stick with them to avoid nasty pesticides.
Support your community and environment. Eating local produce puts money back into your community and benefits the environment by avoiding transportation and wasteful packaging. Eating organic benefits the environment by keeping pesticides out of the air and soil.
Better flavor. Ever pick a sun-warmed strawberry and immediately enjoy a delicious, juicy bite? How about a peach? Or even a carrot? The fresher the produce the better the flavor.
Cheaper by the dozen. When fruit and veggies are in season, they're less expensive, simply by the laws of economics. When there's a bigger supply, the price goes down. When there's not much around, the price goes up because there's less availability and less competition. Also out-of-season and out-of-area produce needs to be stored and maybe shipped which raises the cost of getting it to you and requires the seller to charge more to make a profit.
Mother Nature provides variety and balances the earth. The seasons follow the laws of nature and provide a delicious array of fruits and vegetables that nourish, comfort and energize perfectly for each time of year. They keep a natural check on nutritional balance for the soil and all life throughout the food chain. Technology has thrown food availability out of whack because you can buy any type of produce at any time. Instead of getting caught in this unnatural wave, go with the flow of the earth's resources for a perfect menu. Focus on preparing your favorite dishes instead of trying to decide how to shop and support the planet at the same time.
Bring Out the Spring Favorites
Start your spring cleaning by making your morning breakfast shake filled with delicious nutrient-packed local, organic spring fruit, like the apricot.
Here's what's in season in spring when it comes to scrumptious, juicy fruit: apricots, cherimoya, honeydew, mango, oranges, limes, pineapple, and strawberries.
Spring is also a great time to go green with fresh, leafy vegetables give you the taste of the new growth of the season.
Here's what's in for spring in the veggie garden: artichoke, asparagus, Belgian endive, broccoli, butter lettuce, chayote squash, chives, collard greens, English peas, Fava beans, fennel, Fiddlehead ferns, green beans, Morel mushrooms, mustard greens, pea pods, ramps, rhubarb, snow peas, sorrel, spinach, Spring baby lettuce, sweet corn, sugar snap peas, Swiss chard, Vidalia onions, watercress
Here's produce that's in year-round: avocados, bananas, bok choy, broccoflower, broccolini, cabbage, carrots, celery, coconut, leek, lemons, lettuce, onions, papayas, parsnips, bell peppers and potatoes.
Spring Protein Breakfast Shake, Featuring the Fabulous Apricot
Enjoy your morning protein shake with sweet apricot flavor to boost your metabolism and refresh your taste buds!
Apricot Fantasy
Blend the following to desired smoothness for a 32-ounce shake: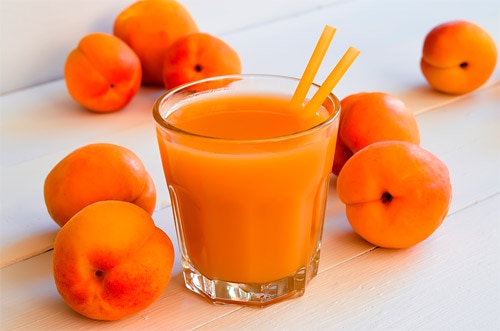 1 to 2 scoops of ProEnergy Vanilla Whey Protein Powder
1- 1 1/2 cups of pure water or skim milk
1- 2 small apricots (fresh or frozen)
1/4 cup raw almonds
1/2 tsp almond extract
Add ice for extra thickness
Optional: 1 scoop Greenergy