Aside from maybe your childhood, can you remember the last time you didn't feel tired and exhausted? Does the feeling of exhaustion creep earlier and earlier into your day? Maybe in the past you started feeling tired around 4 or 5 pm but now you're feeling it creep in mid-morning, or worse, as soon as you wake up!
Relying more and more on caffeine and sugar to keep from dozing off at work? Ready to crash by the time you get home at 6, with enough energy for only mindless activities like watching TV or napping?
Well, it's time to consider how a balanced, nutrient-rich diet can help supply all-day, sustained energy and prevent energy-sapping nutrient deficiencies from getting in the way.
If your energy levels are improving, this means your diet is improving! And that, my friend, is progress, regardless of what your scale is telling you!
Nutrition's Role in Energy Production
Well, before we get into macro or micronutrients, let's just consider water. Are you getting enough water? Dehydration can really put a damper on our energy level and brain function. Consistently drinking water throughout the day helps our brains work properly because our brains rely on carefully balanced fluid and electrolyte levels to send signals.
Nutrition deficiences most often associated with fatigue include those of essential fatty acids (especially omega-3s), iron, vitamin D, B vitamins, zinc, calcium, and magnesium.
Consider magnesium. Without enough magnesium, insulin doesn't function as well as it could (in fact, the same is true of calcium!). This makes it hard for our bodies to extract energy from the glucose we consume. Many of the enzymes that catalyze the conversion of food into energy rely on magnesium.
When it comes to vitamins, the B vitamins are particularly essential for capturing energy from food. B1 convrets carbs into energy. B2 has a complicated role but, put simply, it has a crucial role in the major energy cycles and in metabolizing fats. B3 (or niacin) is used to convert protein, fat, and carbs into energy you can use. B5 (or pantothenic acid) joins with a molecule called Coenzyme A, which allows us to use carbs, fats, and proteins for energy. B6 is involved in numerous steps of carbohydrate metabolism.
Tracking Energy
Unfortunately, tracking or measuring your energy levels througout the day is highly subjective. There's just no standardized, validated way to self-assess this. However, the principles behind what many cancer patients use to measure and track fatigue can be applied to measuring general energy levels throughout the day. Consider the following adaptations to those validated trackers as a way to gain some insight into your energy levels throughout the day.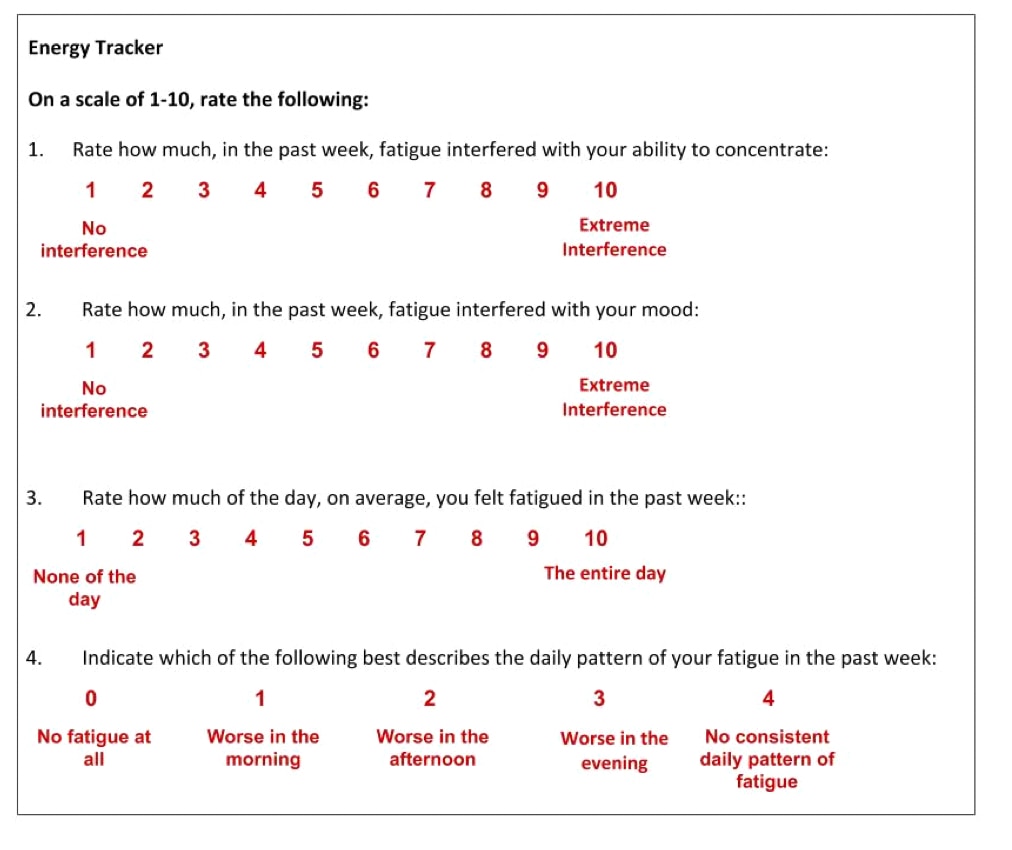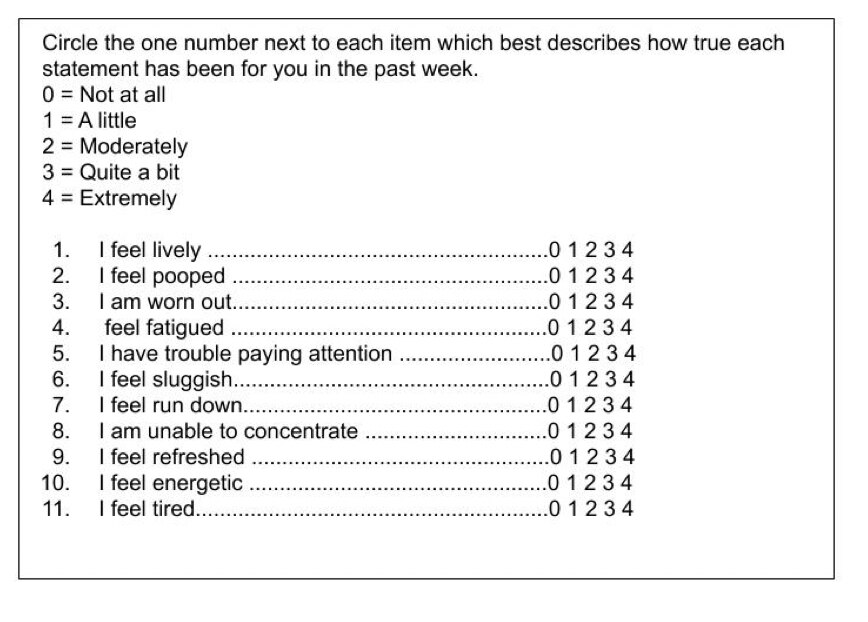 References
Stein, K. D., Jacobsen, P. B., Blanchard, C. M., & Thors, C. (2004). Further validation of the multidimensional fatigue symptom inventory-short form. Journal of pain and symptom management, 27(1), 14–23. https://doi.org/10.1016/j.jpainsymman.2003.06.003